King and Queen of comedy, Stephen Fry and Ruby Wax, celebrated the launch of Oxfam's biggest ever call for book donations with a Great British tea party at Hay Festival this week.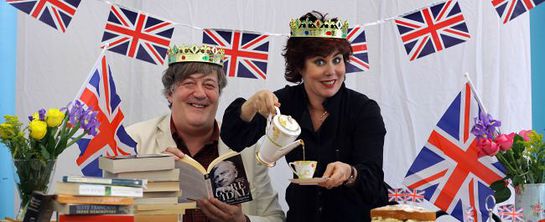 With book donations to Oxfam shops down, the charity is asking the nation to donate more than half a million additional books to raise money for Oxfam's vital work fighting global poverty. The appeal will run until 21 June and the public can donate their books to of all Oxfam's shops throughout the UK including its 148 specialist bookshops.
Stephen Fry said: "It's really important to look at your bookshelves and find some books that you think you can live without to donate to Oxfam. Books are a wonderful gift because you're giving something that is brim-full of ideas and stories while also supporting the valuable work that Oxfam is doing around the world. Apart from anything else you'll clear your shelves for more books!"
Andrew Horton, Oxfam's Director of Trading said: "Our shops are reporting that stock levels and book donations this year are down, and we need your help so we can continue to raise money selling books across the UK. We all own books which sit un-read on our bookshelves and, by donating just a few of them to Oxfam, people can make a real difference to the lives of those living in poverty around the world. If we reach our target of 500,000 additional books we could raise enough money to fund all of Oxfam's work in Rwanda for a year."
Thanks to the thousands of book donations made daily across the country, Oxfam shops are the only place on the high street where you can pick up anything from the latest best-selling novel through to rare first editions and hidden treasures hundreds of years old. Unsold books are redistributed across the Oxfam shop network. Any books that can't be sold are recycled or even made into cardboard boxes. Every single book, whether it is donated or bought, helps to support Oxfam's vital work.
For more information go to www.oxfam.org.uk/books.