British Prime Minister David Cameron visited The Prince's Trust in London last month to meet young people who have been helped by the charity's Enterprise Programme, and five volunteers who have provided Business mentoring support.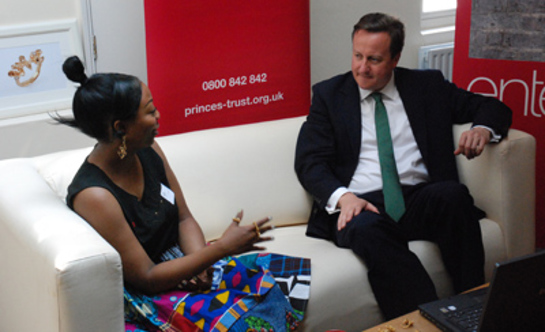 The visit followed the launch of the Government's Start up Loan initiative, aimed at helping more young people into business.
The £82.5 million StartUp Loan scheme aims to give a new generation of entrepreneurs the finance and support to potentially start over 30,000 new businesses, in turn boosting enterprise and economic growth.
The Prince's Trust will be one of the organizations to administer the loan, through its Enterprise Programme.
The Enterprise Programme has helped more than 70,000 young people set up in business since 1983. The programme offers a mixture of mentoring and financial support, helping unemployed young people set up in business or find other positive outcomes, such as employment or a return to education or training.
Find out more about the Prince's Trust Enterprise Programme
Source: Prince's Trust