Czech supermodel Petra Nemcova, founder and chairwoman of the nonprofit organization Happy Hearts Fund (HHF), has been named ambassador at large for Haiti in recognition of her commitment to the long-term empowerment of the country.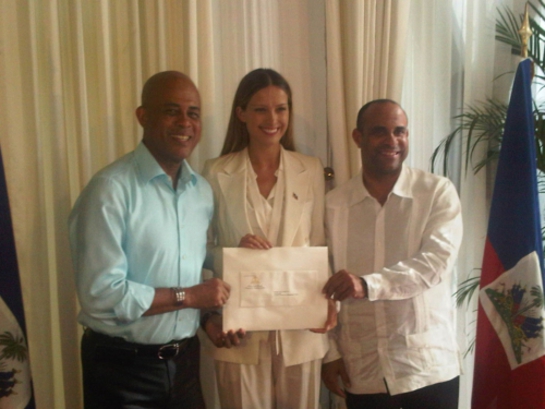 Nemcova received the honor from President of the Republic of Haiti Michel Martelly and Prime Minister Laurent Lamothe at a special ceremony Friday, June 8, 2012, held at the national palace.
President Martelly stated, "Petra had already proven her love for the Haitian children by building schools. This appointment formalizes her role to advance the well being of my country, a role in which she has my full support."
In recognition of the impact that Nemcova will have Prime Minister Lamothe stated, "It's a great honor to have such a distinguished personality representing the Haitian people and ensuring the global donor community honors their commitments to our country."
Nemcova stated, "It is truly an honor to be of service to the people of a country which I love and that inspires me so much. It will be a joy to show the beauty and share the spirit of Haiti with the world. I am proud to represent Haiti internationally with the goal of facilitating the fulfillment of any outstanding pledges, bringing foreign investment and other opportunities towards a brighter future for Haiti."
Nemcova established HHF a few months after surviving the Dec. 26, 2004, Indian Ocean Tsunami to restore hope and opportunity in the lives of children after natural disasters. The organization concentrates its work primarily during the period after emergency response is complete, implements sustainable practices for lasting results and directs 100 percent of public donations to programs.
Since the Jan. 12, 2010, earthquake in Haiti, Nemcova's HHF has partnered with the Government of Haiti, the Inter-American Development Bank (IADB), Digicel, J/P Haitian Relief Organization (J/P HRO), Artists for Peace and Justice (APJ), the Stiller Foundation and Prodev.
HHF has worked in 14 countries since inception and is currently active in six countries, including Haiti, Chile, Indonesia, Mexico, Peru and Thailand. Globally, it has built 57 schools that benefit more than 34,412 children and 337,450 community members and will open 15 new schools this year.
Source: PR Newswire