By Myrlia Purcell on
Environmentalists rubbed shoulders with business moguls at the recent Rio+20 UN Conference on Sustainable Development, which drew attendees including Jane Goodall, Sir Richard Branson, Prince Charles, Edward Norton, Bianca Jagger and Ted Turner.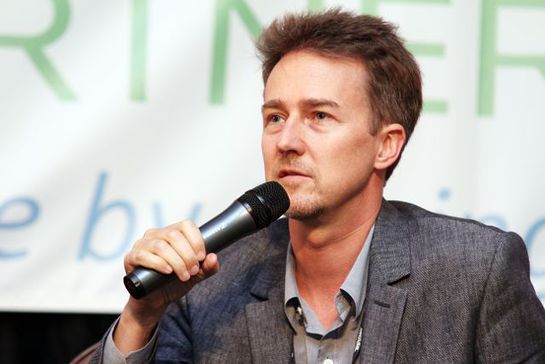 The event, which took place between June 20-22, was cast by environmentalists as the best hope we have of avoiding a cataclysmic break down of our ecosystem.
"I am so pleased to see the United States Government and major companies beginning to take a leadership role in protecting the environment. We environmentalists can only do so much. It truly takes all of us working together to heal the planet," said Jane Goodall.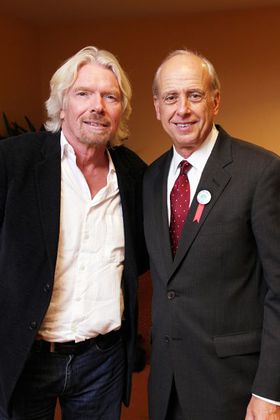 "The private sector needs to put people and the planet at the center of all we do," said Richard Branson, CEO of the Virgin Group. "Together we need to face critical challenges, including finding ways to harness and protect our natural assets-including the last remaining tropical forests. The planet won't wait."
Ted Turner, entrepreneur, philanthropist, and the second largest landowner in the United States, also voiced support. "The message of this event is very timely. Our land-based resources are dwindling, and so we must be responsible stewards by reducing wasteful consumption and agricultural practices and promoting sustainable uses that protect the environment while continuing to feed growing populations," he said.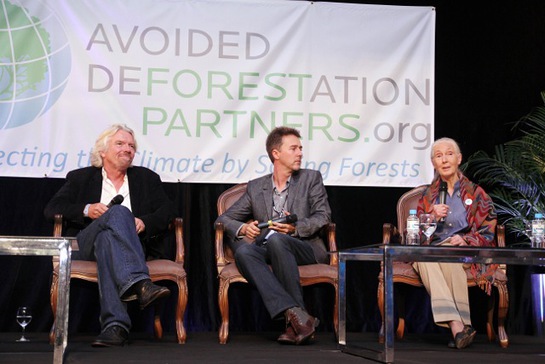 On June 21, Dr. Goodall co-hosted a high-level, invitation-only meeting organized by Avoided Deforestation Partners. The meeting focused on creating a thriving marketplace for products that come from deforestation-free, sustainable agricultural practices by means of public-private partnerships.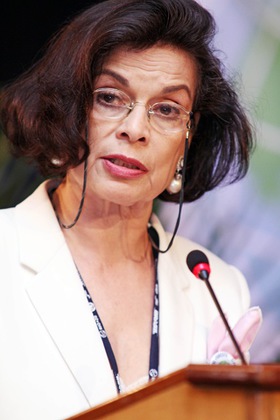 Goodall has spent more than 50 years studying chimps in the wild, becoming one of the leading champions fighting against their threatened extinction. She began her studies in Tanzania's Gombe National Park, and was pained by what she saw on a recent flight over of the area.
Impoverished locals, desperate for firewood and plots of land had cleared the area of trees around Gombe, a 30-square-mile sliver of park along the shores of Lake Tanganyika.
"The trees were gone, the hills were bare," Goodall said.
She blames the destruction on the dichotomy between "desperate poverty" and greed for consumer goods that permeates wealthy countries.
"The unsustainable lifestyles of those not living in poverty is leading to the actions … of the big mining companies, the big petroleum companies and the big logging companies," she said.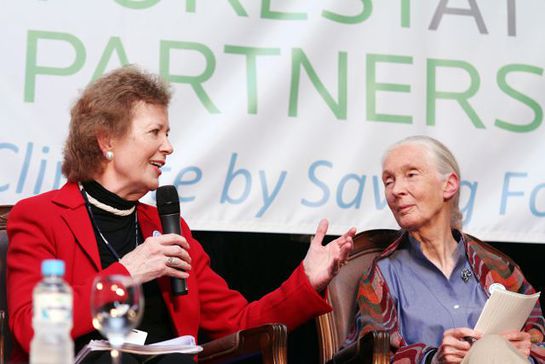 She and other conference attendees, including Prince Charles, also blame the accelerating population growth for the loss of healthy environments. Organizers of the conference estimate our rapid birth rate is bringing about the destruction of 1 acre of forest every second.
"It's population growth; the sheer numbers of us. It's having a devastating effect on the forests," said Dr. Goodall.
Prince Charles spoke at the event via a video, in which he offered possible innovations that could help feed people as we continue to deplete our resources, such as growing integrated crops on forest floors rather than clearing the forests completely.
"Like a sleepwalker, we seem unable to wake up to the fact that so many of the catastrophic consequences of carrying on with "business-as-usual" are bearing down on us faster than we think, already dragging many millions more people into poverty and dangerously weakening global food, water and energy security for the future," he said.
As frightening and dire the circumstances are, Dr. Goodall expressed some hope for our future:
"More and more of the public have begun to understand what's going on out there," she said, "and people are beginning to vote in the grocery store with what they buy."