By John Holt on
UK magic sensation Dynamo won a 10,000/1 bet on the Euro 2012 soccer championship results, and promptly handed over his winnings to the Teenage Cancer Trust.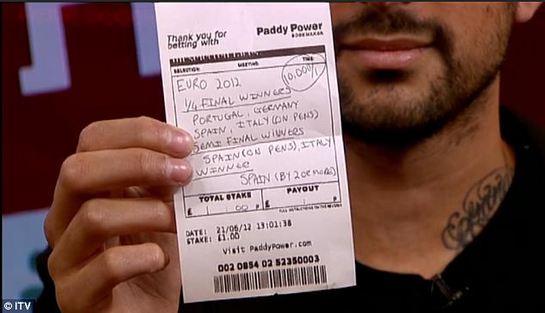 The young magician from Bradford, who shot to fame after producing a home made DVD with funding from the Prince's Trust, correctly predicted Spain's charge from the quarter-finals through to the winners' podium, including the final winning margin.
Appearing on ITV1's "This Morning" programme, Dynamo placed a £1 bet on the detailed outcome of the knockout stages, left it with the production crew in a sealed envelope, then returned two weeks later to reveal the outcome.
Bookmakers Paddy Power confirmed that the bet was placed in London on June 21st and that the £10,000 winnings are yet to be collected – Dynamo announced that all the winnings will go to the Teenage Cancer Trust.