ShoeDazzle is pleased to announce that actress and host Vanessa Lachey is the newest member of its "Celebrity Shoe Design Program for Charity."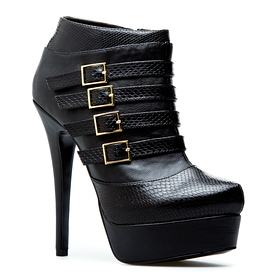 Vanessa designed a military-inspired faux snakeskin high heeled bootie named "Monroe," after the icon Marilyn Monroe, who was known for both her fashion sense and for her support of the troops. The shoe will be available for purchase exclusively at ShoeDazzle.com on August 7th, and all profits from the sales of the shoe will benefit Operation Shower.
Operation Shower is a non-profit organization dedicated to celebrating and honoring military families by providing joyful baby showers for expectant moms whose husbands are deployed. Since its inception in 2007, Operation Shower has showered more than 800 military moms from the Army, Navy, Air Force, Marines and National Guard on military bases and other locations.
"I am so thrilled to be able to raise awareness for a great charity like Operation Shower," said Lachey. "Growing up, my father was in the Air Force, so I have an understanding of what it's like to have a loved one overseas during life's biggest events. ShoeDazzle has provided me with a fun and fashionable way to support the military – and new moms!"
"ShoeDazzle is pleased to have actress and soon-to-be new mother Vanessa Lachey show her support of Operation Shower with this exclusive ShoeDazzle design," said Bill Strauss, Chief Executive Officer, ShoeDazzle. "ShoeDazzle has always been a proud supporter of our troops and their families. The on-trend, military-style bootie is perfect for the fall and a fashionable way to show your support for the women behind our troops."
ShoeDazzle launched its first cause-marketing campaign in fall 2009. Prior to Lachey's shoe release, ShoeDazzle partnered with LaLa Anthony, Carmen Electra, Perez Hilton, Carson Kressley, Jenny McCarthy, singer Mel B and actresses Kristen Bell, Garcelle Beauvais, Kristin Cavallari, Kristin Chenoweth, Jennie Garth and Denise Richards and for its "Celebrity Shoe Design Program for Charity."