Ian Somerhalder, star of the hit CW show The Vampire Diaries and founder of the Ian Somerhalder Foundation (ISF), will be participating in Best Friends Animal Society's annual Strut Your Mutt event at Park Sans Souci in Lafayette, Louisiana on Saturday, September 22, 2012 at 9:00 a.m. The ISF hopes to raise $150,000 at this event.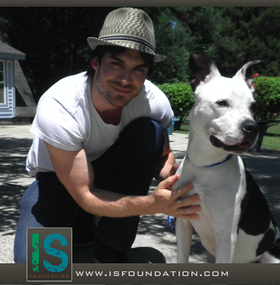 The ISF will participate in Strut Your Mutt this September to raise money for an ambitious new project, the Ian Somerhalder Animal Sanctuary. One hundred percent of proceeds raised by Ian's Dog Pack at the Strut Your Mutt event will go directly to the Animal Sanctuary, which will provide a safe haven for animals that have been neglected, mistreated, abused and misunderstood. It will be a place for troubled creatures of all kinds, including youngsters who have been known to bully their friends, family or classmates. The ISF Animal Sanctuary will provide an opportunity for these youngsters who have been labeled as "bullies" to learn the art of compassion through taking responsibility for another life.
"I really believe in Best Friends Animal Society and their mission of "No More Homeless Pets", said Somerhalder, who serves as an acclaimed ambassador for Best Friends. "Their passion for helping pets really inspired me to work towards building an Animal Sanctuary through the ISF. Our sanctuary will be a safe place for all types of awesome creatures, including abused and abandoned pets."
In addition to providing a safe haven for mistreated animals, The ISF Animal Sanctuary will create unique opportunities for youngsters to develop compassion and leadership skills by caring for and healing the animals at the sanctuary.
"Youth is our most important and most under-utilized resource," said Somerhalder. "We want to empower young people to change the planet for the better and part of that will come through watching the healing process of another living being. This is a big, beautiful, awesome dream and I know we can achieve it if we all work together!"
Somerhalder has always been passionate about the protection and preservation of the earth and all of its creatures. Founded in 2010, the Ian Somerhalder Foundation promotes "the importance of love and interconnectedness." Since its inception, the ISF has grown into an international volunteer organization promoting habitat protection, animal welfare, species conservation, clean energy initiatives, and engaging youth in volunteerism and activism through education and opportunity.


*OTHER WAYS TO GET INVOLVED*
If you are unable to join Ian Somerhalder in Lafayette, LA to participate in person you can support the ISF by joining the ISF Dog Pack at the Strut Your Mutt website. Once you have joined the ISF Dog Pack, you will be able to create your own Strut Your Mutt web page that can be personalized with a story about you and your pet(s), photos, and your personal fundraising goal. Members of the ISF Dog Pack are encouraged to use social media channels to gather sponsors to donate through their personal pages.
You can also support the ISF Animal Sanctuary by sponsoring Team Captain, Ian Somerhalder, or any ISF Dog Pack member with your donation. No amount is too small and all donations are tax-deductible.