The Walmart sweatsuit worn by Kristin Bauer on the first episode of True Blood's fifth season is going under the hammer to help finance the documentary Out for Africa that Kristin and her husband Abri van Straten will shoot in Kenya this summer.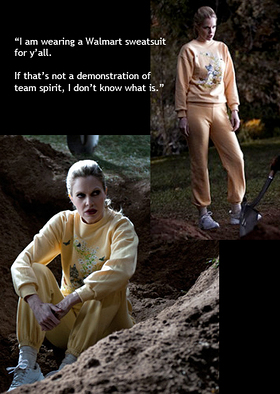 The actress has been asking fans for donations to help fund a new documentary that looks into the poaching and slaughter of Africa's majestic animals. She has already raised $64,000, and is hoping the sale of the piece of True Blood's wardrobe will raise even more.
"This year my husband Abri van Straten and I are going to Kenya with a camera crew to see majestic Elephant families and Rhino in their natural habitat and to meet with the real heroes who work tirelessly for the African wildlife to shine a light on the crisis facing Elephants and Rhino due to rampant poaching for the ivory and horn trades to supply the growing Asian market," she said.
Upcoming items for auction are a Sookie modesty patch and bra signed by Anna Paquin and a one of a kind, Authority necklace from the True Blood Costume Department.
The sweatsuit is up for auction on eBay until August 30 – you can access the auction here.
To find out more about Kristin's documentary project, click here.