UNICEF USA President and CEO Caryl M. Stern was in Kenya last week with three NBA legends, and she has blogged about her trip.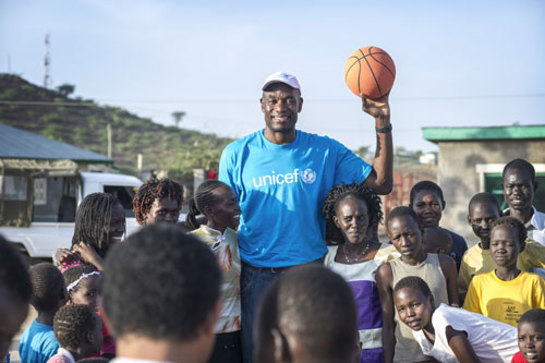 "Last week, NBA greats Dikembe Mutombo, Luc Mbah a Moute and Nick Collison were on the road with the U.S. Fund for UNICEF on a field visit to UNICEF projects in northern Kenya. They visited refugee camps at Kakuma, medical facilities in Makutano, and children's shelters in Lodwar.
"These guys could have been anywhere, but they chose to take time away from their families and friends to travel with us to help some of the world's least visible children. They gave polio vaccines to the children of Turkana tribesmen who without UNICEF might never see a health facility. They spoke gently, and with enormous compassion, to little girls who've been rescued from abuse and arranged marriages, and who now live in a UNICEF-supported boarding school.
"And they played basketball. Oh, the squeals of glee and beaming faces of the children who rocketed around the players' knees as they taught them to dribble and shoot. It was something to behold.
"Sport, of course, isn't just about sports, our friend Dikembe (a longtime NBA Global Ambassador and USF Southwest Regional Board member) often says— "In a refugee camp like Kakuma, a basketball court brings people in the community together in a place where UNICEF can deliver lifesaving support. Sports can attract children to a school, so they have an opportunity to learn and escape the cruel cycle of poverty."
"Dikembe, Luc and Nick are part of a U.S. Fund for UNICEF partnership with the National Basketball Association that is bringing real change to children in places like those we visited this week. Like us, the NBA believes that every child has the right to live, learn and play. Like us, the NBA believes that ZERO children should be denied vaccinations, and education, and the opportunities to make a better life."
You can read the full blog post here.
Source: US Fund for UNICEF