By Misty Schwartz on
Suzanne DeLaurentiis and Promethean Light Media will host a Pre-Emmy Gifting Suite to benefit VETS.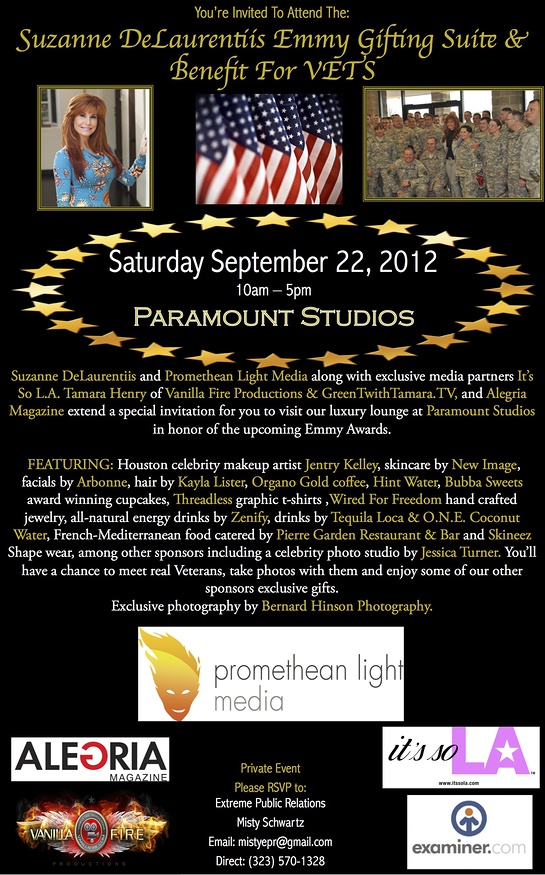 Suzanne DeLaurentiis and Promethean Light Media along with exclusive media partners Tamara Henry (Vanilla Fire Productions & GreenTwithTamara.TV), It's So L.A. and Alegria Magazine will celebrate with Emmy Nominees and Presenters on September 22 at Paramount Studios in Hollywood from 10am-5pm.

Promethean Light Media (PLMedia) produces digital media projects for any business need, whether you're looking to create a new branding strategy, market a new product or service, want to shoot a local commercial that will gain you increased visibility or are dreaming of something even bigger.
PLMedia was established on the principle that any project can be extraordinary when its created by looking through the right lens. Their creative team will help you achieve the perfect marketing or branding effort through a collaborative process that takes your requirements and blasts them into the stratosphere in terms of the visual results. Their goal is simple: create and deliver services and products that exceed your expectations, amaze your customer audience and lead to lasting relationships.


Celebrities that visit the suite will spend a day being pampered with sponsor products and services including: skincare by New Image, VIP bags by Arbonne, makeup by Jentry Kelley, hairstyles by Kayla Lister, relaxing drinks by Zenify & Organo Gold, cocktails by Tequila Loca & O.N.E. Coconut Water, and all natural snacks by Andre Gordon of USANA.



Other gifts include: Hint Water, Bubba Sweets award winning cupcakes, Threadless graphic t-shirts, Wired for Freedom jewelry, and Skineez Shapewear, among other sponsors. Pierre Garden Restaurant & Bar will cater French-Mediterranean food. Guests will have a chance to meet the vets and take photos with them at our exclusive photo studio by Jessica Turner & Bernard Hinson Photography.


All proceeds raised from this star-studded event will benefit the VETS.