On September 21st, The Art of Elysium will celebrate its 4th annual GENESIS, the Friday night before the Emmy Awards.
GENESIS is a celebration of emerging talent that brings artists, creative thinkers, and social leaders together in support of The Art of Elysium's programs and mission. The atmosphere is lively and showcases a variety of interactive artistic platforms highlighting the organization's four main disciplines: fashion design, fine arts, music, and theatre/media.
The evening will feature a live art and fashion installation – featuring work by David Arquette – as well as multiple musical performances by a mix of emerging and established musicians. All of the artists involved have shared their time and talent with the children we serve, which in turn inspires them and their creative process, fulfilling the full circle mission of The Art of Elysium.
The Host Committee includes the fantastic singer/songwriter Lucy Walsh, daughter of Joe Walsh.
Find more info here.
Renowned actresses Busy Philipps and Courteney Cox have also teamed up with The Art of Elysium and One Kings Lane, the leading online marketplace for the home. Philipps and Cox will co-curate a Vintage & Market Finds Sale on One Kings Lane that will feature vintage items they are donating from their homes, as well as an assortment of one-of-a-kind pieces, hand-selected by the interior design enthusiasts. The 72-hour celebrity curated sale launches on September 20 at 6:00 p.m. PT/9:00 p.m. ET on OneKingsLane.com and proceeds will be donated to The Art of Elysium.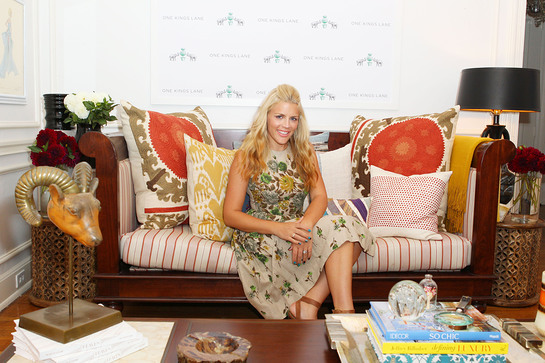 As friends and co-stars of the hit show "Cougar Town," Philipps and Cox are also both known for their distinct design aesthetic. With so much in common, it's no surprise that they also love to scour flea markets and online retailers looking for unique, vintage decor for their homes. The One Kings Lane sale will feature a mix of vintage accessories as well as exclusive items from Philipps' and Cox's personal collections, such as a custom daybed, mid-century coffee table, stylish tabletop and wall decor, as well as a hand-carved canopy bed.
"Partnering with The Art of Elysium to co-curate a sale for One Kings Lane with my dear friend Courteney was the perfect way for me to marry two things I am extremely passionate about – this charity and home decor," said Philipps. "Not only does this provide me with a platform to impact the lives of critically ill children by supporting The Art of Elysium, but also the opportunity to share some beloved items from my home with others."
In addition to the proceeds generated from Philipps' and Cox's sale, One Kings Lane will make a significant donation to The Art of Elysium, helping the organization further support children who suffer from serious medical conditions through their in-hospital artistic programs within the four disciplines of the charity including Art, Film, Fashion and Music. One Kings Lane's donation will directly support the costs of these programs and educating volunteers to be able to work with children on various projects, which are proven to increase overall wellness including self-esteem, socialization and recovery.
Philipps and One Kings Lane have also styled a space on behalf of The Art of Elysium where children are given music and art lessons, creating a beautiful and artistic room to be inspired.
"The Art of Elysium focuses on enriching the lives of children through the arts," said Cox. "I am always drawn to opportunities where I can pair my passion for the arts and design, with helping children in need. I am thrilled to participate in this Vintage & Market Finds Sale on One Kings Lane and donate some of the treasured pieces that have inspired me over the years."
One Kings Lane members can purchase these one-of-a-kind celebrity items and the other hand-selected finds featured in the Vintage & Market Finds Sale on September 20 through September 22.
"We are honored that Busy and Courteney have opened up their homes and their hearts to help us curate this unique Vintage & Market Finds Sale benefitting The Art of Elysium – an organization that we are all passionate about," said Andrea Stanford, One Kings Lane vice president of merchandising, designer and vintage sales. "We are thrilled to support The Art of Elysium in its mission of enriching the lives of artists and critically ill children, through both monetary support, and helping raise awareness of this worthy cause."
For additional information about One Kings Lane and the Vintage & Market Finds Sale benefitting The Art of Elysium, visit www.onekingslane.com. To learn more about The Art of Elysium, click here.