The two-time Emmy Award-winning, critically acclaimed and nationally syndicated "The Dr. Oz Show" will broadcast a world exclusive interview with Rosie O'Donnell on Monday, Oct. 8, as Dr. Oz interviews her about her near death experience in August as she suffered her first heart attack.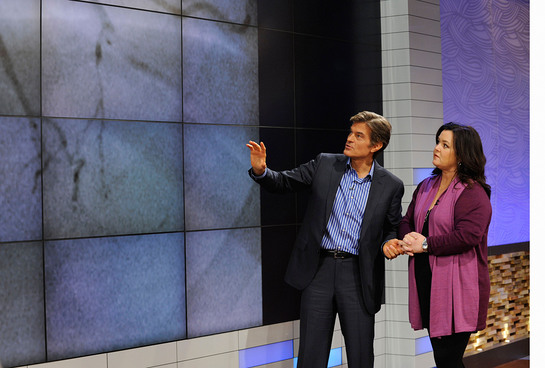 The multiple Emmy Award winning O'Donnell will return to "The Dr. Oz Show" on Thursday, Oct. 25, when Dr. Oz will put her in the Truth Tube and give her a "Heart Attack Health Plan" with an audience made up of women who have all suffered attacks.
Through an intimate and revealing interview about her symptoms and self diagnosis, O'Donnell gives her first interview to Dr. Oz about the pain she experienced, her intuition that something was wrong and her review of symptoms online and chronic pain that caused her to seek medical treatment. O'Donnell's effort likely saved her life as doctors quickly diagnosed her with a clogged artery – the left anterior descending, better known as the "widowmaker" because of its tendency to cause death when blocked.
On the show airing Oct. 8, after a discussion of the events and timeline leading up to O'Donnell's diagnosis and treatment, Dr. Oz will review O'Donnell's angiogram and the stent intervention that saved her life. O'Donnell's cardiologist, Dr. Allison Spatz, is also present to discuss her case as well as the symptoms of heart attacks that are unique to women, how to spots signs of a heart attack in yourself or loved one, and when to seek medical treatment. The show airing Oct. 25 will have an audience composed of heart attack survivors, as well as two at-risk women who will go through the Truth Tube after O'Donnell.
"I applaud Rosie for using her experience to teach others about the risks and symptoms of heart disease," said "The Dr. Oz Show" host, Mehmet Oz, M.D. "As a cardiac surgeon I have operated on thousands of people who could have avoided heart disease altogether if they simply understood some simple prevention principles. Heart disease is the number-one killer in America and most people don't know the tell tale warning signs. Rosie has provided us with a teachable moment from her own experience, which is noble and empowering for anyone recovering from heart attack."
O'Donnell first appeared on "The Dr. Oz Show" in February 2012 with Dr. Oz showing her omental fat while discussing how it destroys a person's health leading to heart disease and diabetes. On August 20, she posted a blog about her heart attack on her web site detailing her experience and outcome. O'Donnell's story is a typical case of how cardiovascular disease progresses in women and ultimately manifests in a life threatening heart attack.
Source: PR Newswire