A potentially deadly salmonella outbreak in the U.S. and the Netherlands—from tainted salmon—has been reported just days after the largest beef recall in Canadian history, prompting Emmy-nominated sitcom star, mother of two, and neuroscientist Dr. Mayim Bialik to offer a simple solution for moms who want to protect their families: Toss the meat!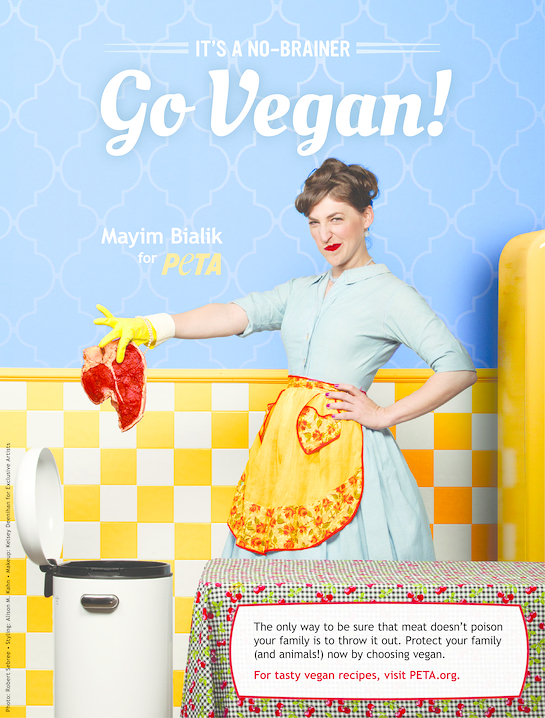 That's the message in her brand-new campaign for PETA, in which the Big Bang Theory star—dolled up as a '50s homemaker—tosses a "steak" into the garbage beneath the words "It's a No-Brainer: Go Vegan!" The ad concludes, "The only way to be sure that meat doesn't poison your family is to throw it out. Protect your families (and animals!) now by choosing vegan."
In an exclusive PETA interview, Bialik opens up about some of the other health benefits that can accompany a switch to vegan meals. "I've never had a sinus infection or been on antibiotics since cutting out dairy," she says. And the changes go beyond the physical: "I think the most significant shift for me was I used to feel guilty. Even as a child, I felt very guilty about eating animals and never knew that there was something to do about it. And as I got older, it became clearer that there are things that I can do and choices I can make."
Also known for her roles on Beaches and Blossom, Bialik is the author of Beyond the Sling: A Real-Life Guide to Raising Confident, Loving Children the Attachment Parenting Way and a contributor to Jewish parenting website Kveller. She joins a growing list of celebrities—including Alicia Silverstone, Paul McCartney, Alec Baldwin, Casey Affleck, and Joaquin Phoenix — who have teamed up with PETA to promote healthy and humane meat-free meals.
For more information and to view the ad and interview, visit PETA.org.
Source: PETA