Jersey Shore may be about to kick off its final season, but Mike "The Situation" Sorrentino already has his next gig lined up: animal advocate.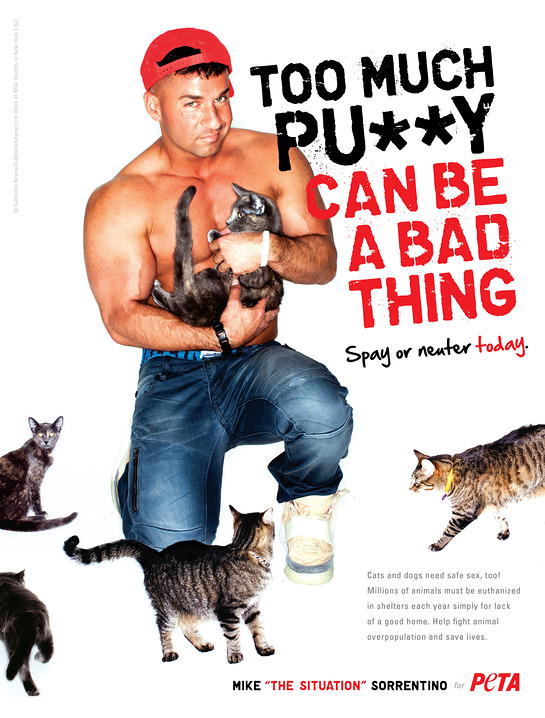 That's why Sorrentino, who recently spent time in the Celebrity Big Brother (CBB) house, teamed up with PETA US for a brand-new campaign that calls attention to the homeless animal situation. In the ad, the CBB finalist shows off his celebrated six-pack amid a rowdy crowd of felines and next to the words, "Too Much Pussy Can Be a Bad Thing" The ad concludes, "Spay or neuter today."
"It definitely was overcrowded, and I learned that there's been a problem, and it's a growing problem," Sorrentino said of the homeless animal overpopulation crisis following a recent visit to an animal shelter. "Fix your animals." Sorrentino also cautions everyone that adopting a dog or cat is a lifelong commitment and urges anyone who witnesses animal abuse to call the authorities immediately.
Each year, thousands of cats and dogs in animal shelters must be killed because there aren't enough good homes for them. Other animals are abandoned on the streets, where they starve to death, get injured or killed by vehicles or fall prey to abuse. Adopting – not buying – is the answer. Also, the best way to minimize the number of homeless cats and dogs is by always having companion animals spayed or neutered.
Sorrentino joins a long list of celebrities, including Justin Bieber, Kellan Lutz and Simon Cowell, and reality TV stars, such as Lauren Goodger and Chantelle Houghton, who have teamed up with PETA and its affiliates to help fight animal abuse.
For more information, visit PETA.org.uk.