In 90 communities around the nation, supporters of St. Jude Children's Research Hospital are collecting pledges for the 4th annual St. Jude Give thanks. Walk on Nov. 17. to help kids battling cancer and other deadly diseases.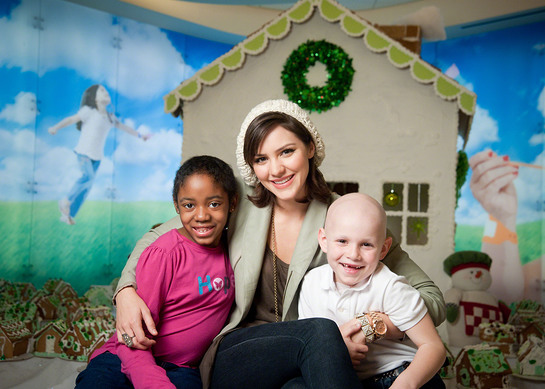 The theme of this year's 5K is Walk. Give. To help them live. The locations vary – from Soldier Field in Chicago and Jungle Island in Miami, to National Sylvan Theatre in Washington, D.C., Frisco Square in Dallas and the Atlanta Zoo, among others.
Donor dollars help ensure that St. Jude Children's Research Hospital continues its pioneering research and lifesaving treatment while fulfilling its commitment that no patient family will ever pay St. Jude for anything.
Among those families is Ashley, a five-year-old St. Jude patient from New York City. She is receiving treatment for a cancerous tumor called brainstem glioma. Ashley loves clothes and is determined to beat this disease, so she can be a professional model one day.
"As painful as a cancer diagnosis can be, it is not a child's only defining moment," said Rick Shadyac Jr., ALSAC/St. Jude Children's Research Hospital CEO. "At St. Jude Children's Research Hospital, a patient's journey is not just about survival – but surviving to enjoy a long lifetime of celebratory moments that they deserve to share with their families."
For the second year in a row, actress and Columbia recording artist Katharine McPhee is helping raise awareness about the walk. This year's incentive package for fundraisers includes a trip to New York City with travel and accommodations, to meet McPhee and visit the set of "Smash." The challenge: those who secure a minimum of 10 new online donations between Nov. 1-16 will be entered into the drawing.
"Last year it was heartwarming to witness so many communities across the country come together for the kids of St. Jude Children's Research Hospital," said McPhee. "Touched by the generosity of these donors, I wanted to do something more this year – something that would leave a lasting memory and inspire more people to give."
Other celebrity guests fundraising and attending this year's St. Jude Give thanks. Walk. events around the country are actress Josie Loren; "The Client List" actress Elisabeth Rohm; "The Hunger Games" actress, Ford model Kalia Prescott; actress Joey King of "Crazy Stupid Love" and "Oz: The Great and Powerful;" and Sabrina Soto, Target Style Expert for Home, author and HGTV designer and personality.
"After walking the halls of St. Jude Children's Research Hospital with my own mother, I was inspired by the patients to join the fight against pediatric cancer," said Soto. "It is a cause that touched me because the amazing discoveries of St. Jude researchers and doctors are literally saving the lives of children around the world."
For children diagnosed with deadly diseases who never step foot on the hospital campus, St. Jude freely shares its discoveries with the global medical community, helping save countless lives.
Although St. Jude Children's Research Hospital has helped push overall U.S. survival rates from 20 to 80 percent since it opened 50 years ago, pediatric cancer remains the leading cause of death due to disease among U.S. children older than 1. To further improve survival, more research breakthroughs and innovative treatments are needed.
St. Jude Give thanks. Walk serves as the official kick-off event for the St. Jude Thanks and Giving campaign, which is a retail fundraising campaign throughout the holiday shopping season.
For the latest details about specific events, visit givethankswalk.org.
Source: PR Newswire