Actor Sean Bean is throwing his star power behind a £1.3 million campaign to create new, world-class cancer research and treatment facilities at Weston Park Hospital.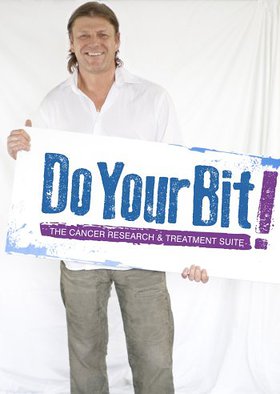 The Sheffield-born star has been announced as the face of the 'Do Your Bit' campaign, and will be encouraging people from all walks of life to join him in supporting the cause.
The star has pledged his support in a recorded personal video message which can be seen below:

The aim of the 'Do Your Bit' campaign is to create a new facility to offer patients from across the region the opportunity to receive the most up-to-date anti-cancer treatments and therapies, initially as part of a research programme, and subsequently as NHS treatment.
Sean, who has starred in Hollywood blockbusters including Lord of the Rings and most recently played a lead role in BBC drama series, Accused, has personal experience of Weston Park Hospital after his dad underwent treatment there.
He said: "I am pleased to support the 'Do Your Bit' campaign to provide a new Cancer Research and Treatment Suite at Weston Park Hospital. This new facility will provide the very best in treatment for thousands of people living with cancer.
"Cancer touches all of our lives at some point; my dad has been treated at the hospital, so I know first hand what a wonderful cause it is. I am urging everyone to get behind the 'Do Your Bit' campaign.
"Every single donation, no matter how small, really will help to make a difference, and Westfield Health will match every pound that is given meaning every donation is worth double to the charity.
For Weston Park Hospital Cancer Charity, it is a major achievement to have Sean backing the campaign, a well known face to millions of film-fans across the globe.
Rachel Thorpe, Charity Director, said: "We are thrilled to unveil Sean as the face of the 'Do Your Bit' campaign.
"Sean is doing his bit by publicising the campaign and we want as many people as possible to join him in helping us.
"The new facilities will help thousands of people now and in the future, and confirm Weston Park Hospital in the front rank of cancer research and treatment."
Weston Park Hospital, which is one of only four specialist cancer hospitals in England, serves patients from all across South Yorkshire, North Nottinghamshire, North Derbyshire and parts of North Lincolnshire
Rachel added: "With one in three people being diagnosed with cancer at some point in their lives, most people will know someone affected by cancer.
"Every single donation counts, no matter how big or small. The campaign is all about encouraging people from across the whole region to support us and help us reach our target of £1.3 million. We hope Sean's support will help us achieve this."
The 'Do Your Bit' campaign is also being supported by not-for profit health insurance provider Westfield Health.
Westfield's Charitable Trust has pledged £350,000 to Weston Park Hospital Cancer Charity's 'Do Your Bit' campaign. It is the company's biggest ever single donation.The company has already donated £100,000 and is matching all appeal donations pound-to-pound up to a further £250,000.
Graham Moore, Chairman of Westfield Health, said: "At Westfield we are proud to be involved in a campaign that is set to make such a huge difference to the lives of so many people. We would like to say a huge thank you to Sean for showing his support to 'Do Your Bit' and we urge others to help."
There are dozens of ways of supporting the 'Do Your Bit' campaign – such as organising or attending an event, including Funny Business at Sheffield City Hall on 29 November, or making a donation.
To find out how you can help visit 'Do Your Bit' campaign visit: www.do-your-bit.org.uk or call the Cancer Charity on 0114 226 5370.
Source: wphcancercharity.org.uk