Starkey Hearing Foundation wrapped up their second mission to the Philippines last week with help from legendary singer-songwriter, Sir Elton John and David Furnish.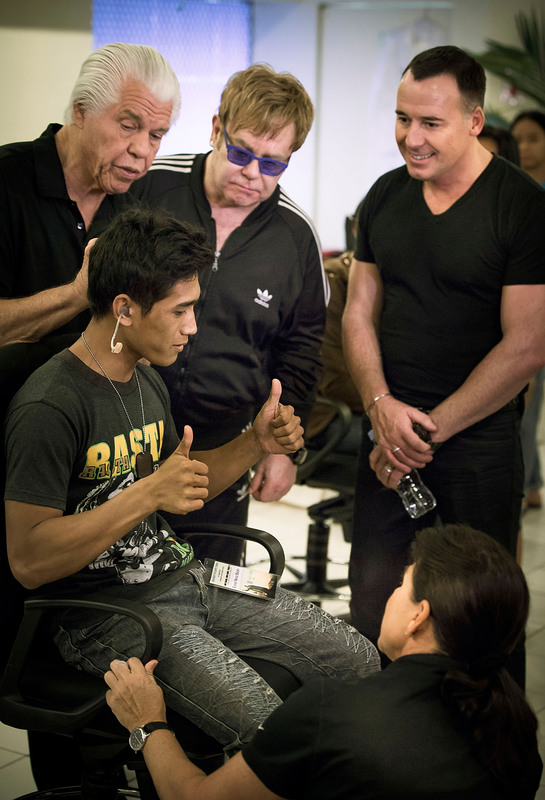 John and Furnish joined the Foundation in Manila and helped fit more than 400 hearing aids to children and adults in need, allowing many to hear for the first time in their lives.
In 2004 and 2009, John was the headlining performer at the Foundation's annual So The World May Hear Awards Gala, and he and Furnish have supported Starkey Hearing Foundation's work for several years since then. This was their first opportunity personally participate in a mission and give the gift of hearing.
"We are working to create peace and understanding around the world through the gift of hearing, and it is not possible without all the efforts of our friends and partners," said Bill Austin, Founder of Starkey Hearing Foundation. "We are so honored to have the support of Sir Elton John and David Furnish and that they would take the time to help us deliver this precious gift."
Starkey Hearing Foundation was also in the Philippines last December, delivering the gift of hearing to nearly 1,400 people in Manila, Bohol and Cebu with help from professional boxer, Manny Pacquiao and Los Angeles Galaxy soccer player, Landon Donovan. The Foundation plans to return in March 2013 to fit approximately 7,500 hearing aids in Manila, Batangas and General Santos.
This Philippines mission was the conclusion of a major mission circuit for Starkey Hearing Foundation. The team visited 13 additional cities in five countries—Senegal, Ghana, Nigeria, Liberia and India—and distributed more than 24,000 hearing aids over six weeks.
Starkey Hearing Foundation conducts approximately 70 missions each year, both domestically and internationally. Hearing missions are the primary way the Foundation realizes its goal – So the World May Hear. Starkey Hearing Foundation continues to fulfill its Clinton Global Initiative (CGI) commitment to provide more than 100,000 hearing aids to people in need each year and more than one million this decade.
According to Starkey Hearing Foundation, hearing loss is pervasive, affecting 34 million Americans – or one in 10. Yet, with the help of a hearing device, hearing loss can often be corrected in a majority cases, giving an individual the opportunity to better connect with their family, the community and the world around them.
Source: PR Newswire