"The Livingston Town Proper: A Concert to Benefit the Fighters of the Pine Creek Fire," a special musical event organized and hosted by performing artist John Mayer, has raised more than $100,000 to help firefighters who battled summer 2012's devastating Pine Creek Fire, which destroyed more than 8500 acres of forest and farmland in and around the town of Livingston, outside of Bozeman, Montana.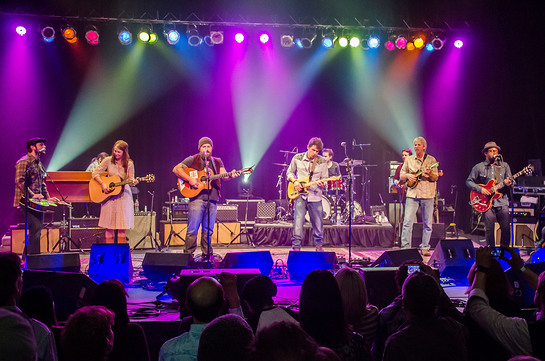 The January 16 show, held at the Emerson Theater in downtown Bozeman, marked Mayer's first in-concert performance as a singer since April 1, 2011. (In March 2012, the return of a throat granuloma forced the artist to cancel his first tour in two years and take an indefinite hiatus).
The concert found Mayer joined onstage by Zac Brown and Clay Cook of the Grammy-winning Zac Brown Band. Special guests rounding out the evening included David Ryan Harris, Sean Hurley, Aaron Sterling, Ben Bullington and Lil Jane & The Pistol Whips. John performed three songs—"Speak for Me," "Whiskey, Whiskey, Whiskey" and "If I Ever Get Around To Living"—from his latest album, Born and Raised, and "Who Says" from 2009's Battle Studies.
It took hundreds of local firefighters weeks to contain and extinguish the fast-moving Pine Creek blaze, which began on Aug. 29. The tight-knit local community banded together to help the local fire and rescue companies keep the fire from spreading to houses and schools. Only five homes – and no lives – were lost.
"Without the tireless effort and dedication of the firefighters of the Pine Creek Fire, many more homes and memories would have been destroyed, mine among them," said Mayer. "I wasn't in town when the fire broke out and I've always wished I could do my part to help, the way so many in the community did. Putting on a concert to raise some money for the departments is the least I can do for a town and a community that has welcomed me with open arms."
Source: PR Newswire