Michelle Obama, whose advocacy for fitness and nutrition have been a cornerstone of her work as First Lady, will appear on the nationally syndicated The Dr. Oz Show on the third anniversary of her monumental "Let's Move!" campaign.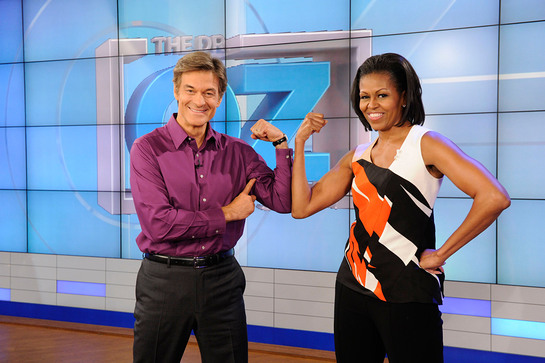 Joined by Secretary of Education Arne Duncan, the First Lady will discuss how physical activity affects children's health and academic achievement. The episode will air Thursday, February 28, to coincide with a major announcement about bringing physical activity back to schools, to be made by Mrs. Obama and Secretary Duncan.
"Mrs. Obama's advocacy for physical activity in schools is an investment in our future and will give our children longer, healthier lives," said host Dr. Mehmet Oz, MD. "The First Lady's sense of urgency on this topic goes hand-in-glove with the conversation we have with our audience every day. I'm humbled and honored that Mrs. Obama and the Secretary of Education will appear on our show to continue this national conversation with our viewers."
The two-time Emmy Award-winning nationally syndicated The Dr. Oz Show first hosted Michelle Obama as a guest in September 2012.
Source: PR Newswire