Young patients at Great Ormond Street Hospital had a very special visitor this week when The Prince of Wales toured the wards.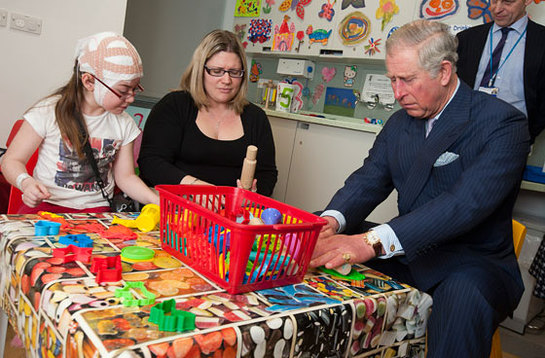 His Royal Highness chatted to children being treated for cancer and epilepsy at the London hospital, known as Gosh, and spent time in its complementary therapy suite.
The Prince, who is due to become a grandfather for the first time this summer, particularly enjoyed being in the hospital's playrooms.
He pulled up a child-sized chair to chat to epilepsy patient Katie Tuffin, who was only admitted to the ward yesterday.
On being handed a tub of Play-Doh, The Prince took out the green dough and promptly got to work rolling it out with a grooved rolling pin.
Eight-year-old Katie said she was impressed with the royal visitor – even though her mother, Emma, revealed that her daughter had initially thought Prince William was to be the special guest.
The Prince, wearing a dark blue suit and striped shirt, seemed all too aware of the mess that can be made when Katie told him that her five-year-old brother, Oliver, mixes up the Play-Doh colours.
"You get annoyed by that, do you?" he asked her. "Does he grind it into the carpet?"
When Katie admitted that the siblings "sometimes" fight, The Prince gave a wry smile and said: "It tends to happen, doesn't it."
Mrs Tuffin, from Chatteris, Cambridgeshire, said she was impressed with The Prince's knowledge of epilepsy after he asked if her daughter was on a ketogenic diet, sometimes used to help those with the condition.
"I must admit I was surprised he was aware of that," she said. "He seems quite clued up on things."
Katie's verdict of the royal visitor was that he was "kind, friendly and good at Play-Doh".
It was not the first visit to Gosh for The Prince of Wales, who was treated there for appendicitis when he was a boy.
His sons, The Duke of Cambridge, was treated there after being hit in the head with a golf club in 1991.
Professor Helen Cross, holder of the title Prince of Wales's Chair for Childhood Epilepsy, said: "It was a privilege to meet The Prince again and show him first-hand how neurology patients are benefiting from vastly improved facilities within the new clinical building and, most particularly, here at Europe's foremost referral centre for epilepsy.
"The Prince is very interested in our epilepsy service and how we can continue to improve outcomes for patients with this condition."
Gosh Chief Executive Jan Filochowski, who showed The Prince around the hospital, said: "We were delighted that The Prince of Wales was able to visit Great Ormond Street Hospital and meet so many of our patients and the staff that care for them.
"It was fantastic to have the opportunity to show him round our hospital and in particular showcase our new state-of-the-art neurology ward where some of the UK's most complex epilepsy patients are looked after by the biggest neurosciences team in the country."
The Prince was Patron of the Wishing Well Appeal, launched in 1987 to raise money for the hospital's redevelopment, and his last visit before today was in 2006, to see a newly-opened wing.
Read the full account of the visit here.
Source: PrinceOfWales.gov.uk