In partnership with Save the Children, Babies"R"Us is introducing specially designed t-shirts as part of the company's exclusive Truly Scrumptious by Heidi Klum collection to help inspire creativity among kids.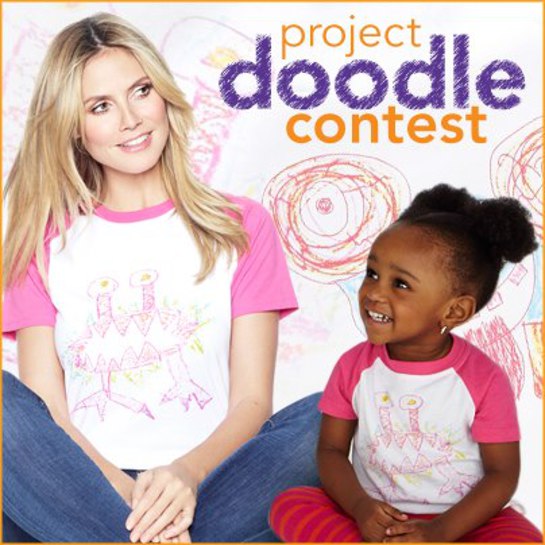 In conjunction with this initiative, Babies"R"Us has donated $50,000 to Save the Children's programs benefitting young children in impoverished regions around the country. The fun, monster-themed t-shirts for kids, sizes newborn to 5T, were designed by Johan, 6-year-old son of world-renowned fashion icon and mom of four Heidi Klum. The t-shirts are now available online and rolling into Babies"R"Us stores nationwide next week.
Save the Children has a long history of showcasing the creativity of children through their artwork and has implemented various art contests over the years to encourage youth to show their support for those in need through design, while raising awareness and funds for the organization's ongoing mission. Inspired by Save the Children's licensed art contests and eager to highlight the good work of its long-standing philanthropic partner, Babies"R"Us has launched the Project Doodle Contest to celebrate the introduction of this limited edition t-shirt assortment.
"As an organization dedicated to providing support to children in need, while inspiring kids through art, we're thrilled to partner with Babies"R"Us and Heidi on this initiative," said Mark Shriver, Senior Vice President for Strategic Initiatives for Save the Children. "The generous donation provided in conjunction with the launch of these t-shirts and the Project Doodle Contest will help us to further our mission in assisting youth in impoverished regions throughout the United States."
Beginning today, budding artists, ages 8 and younger, can visit Babiesrus.com/HeidiKlum or the company's Facebook page, Facebook.com/Babiesrus, to create and share their designs using Doodle.ly, a digital sketchpad. Through this contest, two designs will be chosen to be featured on t-shirts, which will be manufactured and sold in Babies"R"Us stores nationwide and online this fall as part of the Truly Scrumptious by Heidi Klum collection.
"As a mom of four, I'm constantly drawing design inspiration from my kids — whether it's their unique fashion sense, their latest art project or simply their zest for life. Johan, my 6-year-old, is super creative, and I knew I wanted to incorporate his whimsical and imaginative designs into my Truly Scrumptious collection in a very special way," said Heidi Klum. "I'm so proud — as a mom and a designer — to introduce this one-of-a-kind assortment of t-shirts to Babies"R"Us customers in conjunction with my all-new summer apparel collection. These adorable baseball style shirts featuring monsters — a nod to my signature Truly Scrumptious characters — will be used to shine a spotlight on the wonderful work Save the Children does for children throughout the United States. I can't wait to see all of the fun, unique designs that kids submit through the Project Doodle Contest, and watch them come to life as part of my fall line."
Johan Lends Designs to Limited Edition T-Shirts for Babies"R"Us
Finding inspiration in her son's imaginative sketches, Heidi Klum continually incorporates signature characters and whimsical designs into her Truly Scrumptious collection. Now, Johan himself is playing designer, as Babies"R"Us introduces two baseball-style t-shirts — one with pink sleeves and one with blue sleeves – featuring his hand-drawn, silly monster creations front and center. Sure to be loved by parents and children, the t-shirts are representative of the imagination and creativity of kids. Each shirt will be easily identifiable with a special hangtag to draw attention to Save the Children's U.S. Programs.
The tees can now be purchased online and will be available in Babies"R"Us stores nationwide next week for $4.99. To complement the in-store availability of these unique shirts, customers will find eye-catching signage at the front of the stores' apparel sections touting the all-new assortment, as well as the Project Doodle Contest.
"We're thrilled to welcome Johan's designs in our stores nationwide and online as part of our Truly Scrumptious summer collection," said Neil Mulhall, Vice President, Divisional Merchandising Manager, Babies"R"Us. "We're equally excited to offer little ones across the country a chance to play designer through the Project Doodle Contest, bringing another fun, unexpected assortment of kid-designed tees to our stores this fall."
Source: Save the Children