Montblanc celebrated their partnership with "Midnight Moment: A Digital Gallery," with a tribute to Nelson Mandela at a viewing reception with Robert De Niro, Jane Rosenthal, Craig Hatkoff and Ndaba and Kweku Mandela, two of Nelson Mandela's grandsons, at the R-Lounge in Times Square last week.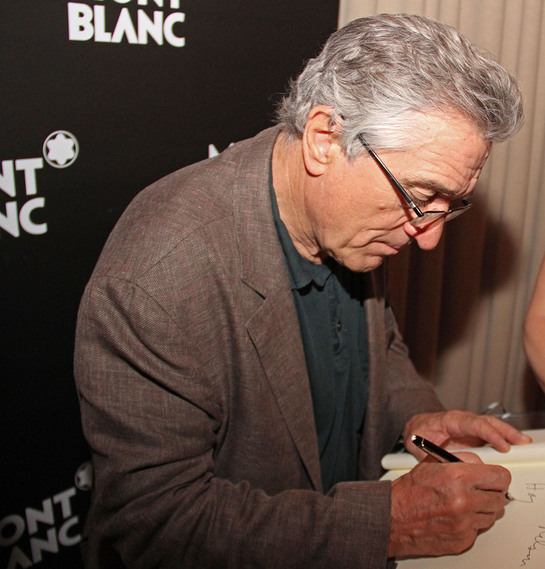 The reception included unparalleled views of the "Midnight Moment" screens with floor-to-ceiling windows overlooking Times Square, where guests enjoyed a first hand viewing of "The Power of Words" showcase.
The "Midnight Moment" is a synchronized creative content series that broadcasts selected videos in Times Square every night in a three-minute countdown to midnight. Montblanc is presenting the 'Midnight Moment' video project as part of a series of worldwide programs for the Montblanc "Signature for Good" initiative, which benefits UNICEF's Schools for Africa and School for Asia initiatives, as well as UNICEF education programs in Latin America. The new short film, "The Power of Words," was created specifically for the "Midnight Moment" series and will be showcased every night in April 2013. The film is a compilation of the South African leader, Nelson Mandela's written words and pays tribute to his peaceful vision. The film will air from 11:57 pm – midnight EST in association with the Times Square Advertising Coalition (TSAC) and Times Square Arts in collaboration with the Tribeca Film Institute and Nelson Mandela Foundation.
"We are honored to power the 'Midnight Moment' and showcase the written words of Mr. Mandela, the visionary leader who exemplifies Montblanc's commitment to culture and the arts," said Jan-Patrick Schmitz, President and CEO of Montblanc North America. "For us, 'Midnight Moment' is not only an exciting piece of contemporary art, but it also delivers a larger message of the power of words. As part of the international Montblanc 'Signature for Good' partnership with UNICEF, this dynamic initiative will help raise awareness of the importance of quality education for children around the world."
Because commitment to culture and the arts is an integral part of the brand philosophy, Montblanc has continued to amplify their role in the ongoing promotion of the written word and cultural values, both locally and internationally. With a heritage deeply rooted in the culture of writing, Montblanc shares Nelson Mandela's lifelong commitment to emphasize the importance of writing and the power of words.
Source: PR Newswire