Delete Blood Cancer co-founder Katharina Harf co-hosted the Seventh Annual Delete Blood Cancer Gala this week at Cipriani Wall Street, and raised a record-breaking $3.7 million which will register lifesaving donors.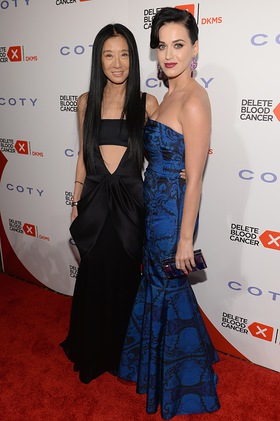 This year, the Delete Blood Cancer Award was presented to Suzi Weiss-Fischmann, co-founder, artistic director and EVP of OPI Products Inc, for her outstanding commitment. Katy Perry presented an Award jointly to designer Vera Wang, and actress Leighton Meester for their promotion of Delete Blood Cancer's Share the Love campaign encouraging people to get swabbed and register as bone marrow donors.
Hosted by TV personality and celebrity designer Nate Berkus and co-chaired by Coty Inc. CEO Michele Scannavini, the event featured an unforgettable live performance by Grammy Award–winning artist Jill Scott, who performed Home as a special tribute to the Murry Family, who's four sons are in desperate need of bone marrow transplants. Later, Grammy Award winning artists Lady Antebellum brought the crowd of 800 to their feet when they took the stage to perform four songs including "Need to Know," and "Downtown."
The signature highlight of the evening came during a miracle moment when 19-year-old Darian Craig from Nashville, Tennessee met, for the first time, the donor who saved her life. The moment brought tears to everyone's eyes – especially Darian's mom, Tina – who, referred to him as an angel giving her daughter a chance at life. The overwhelming joy of the meeting turned into the shock of the realization that the donor, Evander Holyfield Jr. was in fact the son of the boxing legend. The proud father, Evander Holyfield, joined everyone on stage and presented a special gift to Darian, also known as the "Fighter".
For co-founder Katharina Harf, the battle against blood cancer is personal. At 14 years old, she lost her mother to blood cancer. Although the family searched valiantly for a matching donor, her mother's life could not be saved. "Tonight was an incredible evening filled with stories that touched our hearts and the miracle moment of a donor saving a life. We honored some of our greatest advocates and celebrated with amazing performances that gave inspiration to continue the fight to one day delete blood cancer. I know my mother would have been proud, and I am so thankful to everyone who made this possible," says Harf.
Also in attendance at the black-tie gala event were Anastasia Ganias ("True Blood"),Anja Rubik (model), Coco Rocha ("The Face"), Derek Lam (designer), Evander Holyfield (boxing legend), Glenda Bailey (Harper's Bazaar), Georgia May Jagger (model), Julie Henderson (model), Lindsey Vonn (Olympic skier), Kimberly Chandler,Taylor Kraemer (model), Paula Zahn, Dr. Mary Horowitz and others.