In an effort to encourage children to spend more time outdoors and reconnect with nature, the U.S. Forest Service and the Ad Council are joining Sony Pictures Entertainment to launch a series of public service advertisements (PSAs) featuring characters and footage from Columbia Pictures/Sony Pictures Animation's upcoming family comedy The Smurfs 2.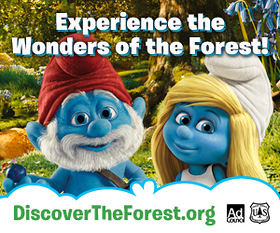 The PSAs are an extension of the U.S. Forest Service and Ad Council's Discover the Forest campaign and will be featured at an event on Saturday, June 22, at The Grove in Los Angeles as part of the studio's "America the Bluetiful" initiative, a nationwide tour where the Smurfs aim to "bluetify" America through a series of environmentally friendly activities.
The Smurfs 2 stars Katy Perry, Neil Patrick Harris, Hank Azaria and many others.
Initially launched in 2009, the Discover the Forest campaign encourages children and their families to get outside and experience the many benefits of nature. The goal of the campaign is to instill a love for nature in children, ultimately creating a lifelong interest and legacy of stewardship through first-hand experience. Created pro bono by Sony Pictures, the new PSAs feature Smurfs characters enjoying the beauty and benefits of their forest home, and encourage both parents and children to experience all the wonder that nature has to offer.
According to the U.S. Forest Service, more than 245 million Americans live within 100 miles from a National Forest or Grassland. While most of the time that U.S. children are outdoors is spent participating in activities such as biking, walking, listening to music, or using electronic devices, nature-based activities, such as hiking, camping, and fishing are not as common. Research has shown that children who play outside have lower stress levels and more active imaginations, become fitter and leaner, develop stronger immune systems and are more likely to become environmentally conscious in the future.
"We are excited to have the Smurfs help us in trying to get more kids out to enjoy their natural surroundings," said U.S. Forest Service Chief Tom Tidwell. "Nearly 10 percent of this country consists of national forests and grasslands, offering an abundance of lands for children from all walks of life to get out and play."
The PSAs encourage children and their parents to visit www.DiscoverTheForest.org where they can find ideas for outdoor activities, an interactive map tool — powered by Google and Nature Find — that enables users to search for nearby forests and parks, as well as a downloadable activity sheet featuring Smurfs characters for them to print and take with them when they visit.
"The Smurfs are classic characters adored by generations and they're also inhabitants of the forest who know firsthand the many benefits the forest has to offer," said Peggy Conlon, president and CEO of the Ad Council. "These new PSAs with Sony Pictures are a wonderful extension of our efforts to engage children and families in discovering the joys of nature."
The Ad Council and the U.S. Forest Service will promote the new PSAs through a multifaceted social media effort on Facebook and Twitter. An online promotion kicking off next week, and continuing through July, encourages families to visit the forest, take photos of something blue, and submit via social media to enter for a chance to win a Smurfs prize.
"We're thrilled to be part of the Discover the Forest campaign," said George Leon, executive vice president, Worldwide Consumer Marketing for Sony Pictures. "The Smurfs have a timeless message of harmony with the environment, so we felt that this collaboration was a natural and a great chance to encourage people to get out and enjoy our blue planet."
America the Bluetiful is Sony Pictures Entertainment's nationwide series of environmental efforts, in which kids and their parents can meet the Smurfs as they clean up their local parks, encourage recycling, plant trees, and discover other ways they can help "bluetify" our country.
The new PSAs are in addition to the campaign's current parent-targeted ads, which encourage families to "unplug" and experience the forest, and are being distributed to approximately 33,000 media outlets nationwide. Per the Ad Council's model, all of the ads will air in advertising time donated by the media. Since the campaign's inception, media outlets have donated more than $120 million in time and space for the campaign.
In The Smurfs 2, the evil wizard Gargamel creates a couple of mischievous Smurf-like creatures called the Naughties to kidnap Smurfette and bring her to Paris – in the hopes that she will reveal the magic spell that will turn the Naughties into real Smurfs and make him the world's greatest sorcerer. The film is directed by Raja Gosnell and produced by Jordan Kerner. The screenplay is by J. David Stem & David N. Weiss and Jay Scherick & David Ronn and Karey Kirkpatrick with a story by J. David Stem & David N. Weiss & Jay Scherick & David Ronn, Based on the Characters and Works of Peyo.