Tune in to President Clinton's Facebook page tomorrow, August 7, at 12:30 PM EST/9:30 AM PST for a live conversation from South Africa.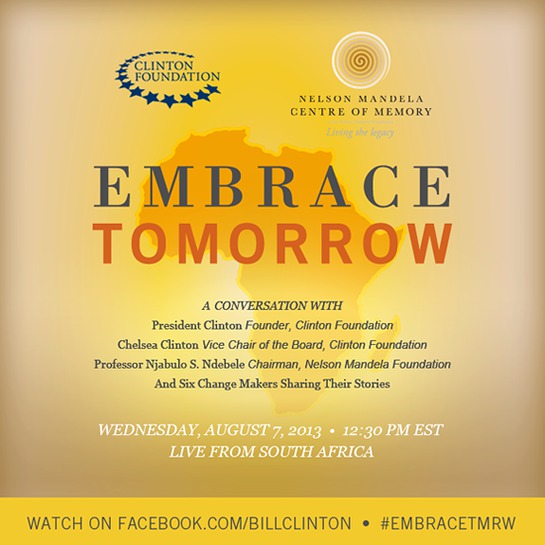 President Clinton, Chelsea Clinton, and Professor Njabulo S. Ndebele of the Nelson Mandela Foundation will lead an interactive dialogue from Pretoria about how we can all take action to change the world for the better – inspired by Nelson Mandela's belief in the possibility of tomorrow.
You can watch live on Facebook.com/BillClinton and ask questions using the hashtag #EmbraceTmrw.
The event will also feature African change makers who are working to take positive action and give back to their communities: Kave Bulambo, Director and Founder, Women Across Borders; Zethu Ngceza, External Relations Coordinator, Ubuntu Education Fund; Shaka Sisulu, Founder of Cheesekids; Hadeel Ibrahim, Founding Executive Director, Mo Ibrahim Foundation; James Mwangi, Group Managing Director and Chief Executive Officer, Equity Bank; and Strive Masiyiwa, Founder and Chairman, Econet Wireless.
Please submit questions and share how you're changing the world for the better using the hashtag #EmbraceTmrw – on Facebook, Twitter, and Instagram – before, during, and after the event.