It has been just over 20 years since the first Sweet Relief album came out celebrating the music of founder Victoria Williams, and now Sweet Relief III: Pennies From Heaven is available for purchase.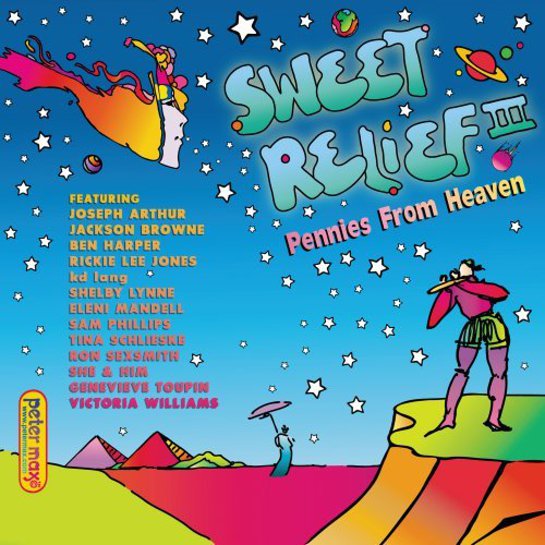 The third compilation, produced by Sheldon Gomberg, features new recordings by various artists including Ben Harper, Jackson Browne, Shelby Lynne, Victoria Williams, She & Him, Ron Sexsmith, Rickie Lee Jones and Joseph Arthur in support of Sweet Relief Musicians Fund. The fund provides financial assistance to all types of career musicians who are struggling while facing illness, disability or age-related problems.
Released on Vanguard Records, each of the artists on the album chose songs with a theme of support and assistance such as "If I Needed You" (Joseph Arthur), "How Did You Find Me Here?" (KD Lang), "King of the Road" (She & Him), "Crazy Love" (Ben Harper), "Change is Gonna Come" (Victoria Williams), and "Big Spender" (Sam Phillips) plus many more.
"Musicians are always among the first to give their energy and talent to help other people in times of emergency, though they are very often without health insurance themsevles, and need our support when they fall prey to illness and hardship. Sweet Relief has been helping musicians for years, and has helped some whom I am very much indebted to for enriching my life. I am very happy to take part in this CD project, and for the chance to support Sweet Relief's very soulful work." – Jackson Browne
"Getting a chance to do something that benefits Sweet Relief combined with working with my dear friend Sheldon Comberg is an opportunity I jumped at and something I can't wait to do again." – Ben Harper
The compilation is available for purchase on iTunes and Amazon.com.
Alongside the release, Charitybuzz is hosting an auction to help raise funds. Current auction items include:
Meet Local Natives at The Greek Theatre September 13, Attend Soundcheck & the Exclusive After Show Party with the Band.
Meet Travis Tritt & Receive 2 Tickets to the 2013 Concert of Your Choice.
Meet Gary Allan & Receive 2 Tickets to his Santa Barabra Concert on Spetember 13.
4 Tickets to See Jeff Dunham

LIVE

& Recieve a Collection of Jeff Dunham Items.
Meet Justin Moore & Receive 2 Tickets to the 2013 Concert of Your Choice.
Meet Larry the Cable Guy & Recieve 2 Tickets to the Show of Your Choice.
Meet O.A.R. & Receive 2 Tickets to the Concert of Your Choice.
Also, Upperatus and Prima Donna have partnered up in an effort to raise money for Sweet Relief Musicians Fund by selling limited-edition T-Shirts. $10 of each shirt sold goes directly to Sweet Relief and musicians in need. All shirts are inspired by the band Prima Donna and are affordable, ranging from $23-$24 each. Sweet Relief is thrilled to be a part of such an inspiring project. To purchase shirts, please go to www.upperatus.com and help support a good cause.