UN Women Goodwill Ambassador Nicole Kidman was last week awarded by Variety magazine for her engagement to advance women's and girls' rights and empowerment.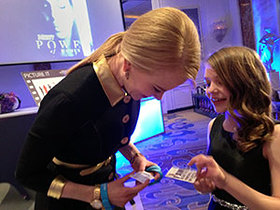 The Academy Award winner received the honour at Variety's 5th Power of Women luncheon in Beverly Hills, which aims at "shining a spotlight on the high-profile women in Hollywood who have used their platforms to make a difference".
"The honourees we celebrate share an understanding of the power of giving back," said Variety publisher Michelle Sobrino-Stearns in announcing the honourees, which also include actresses Amy Poehler, Charlize Theron, Jennifer Hudson, Elizabeth Banks and Kerry Washington as well as Sony Co-Chair Amy Pascal. "The goal of Variety's Power of Women is to galvanize the influence of the entertainment industry to inspire their peers and fans alike to get involved and give back."
At the event, Nicole Kidman urged the audience of Hollywood executives to join efforts towards ensuring a world where 'women can live free from discrimination and violence' and spoke passionately about her work to amplify the voices of women she has met through her travels as UN Women Goodwill Ambassador.
"UN Women is a smart organization and I have seen with my own eyes what they can do: they go and work directly with women in countries around the world. They support women to get elected into office and help them to have viable options to earn a living for themselves and their children", said Nicole Kidman, UN Women Goodwill Ambassador and Academy Award winner. "Right now, in conflict zones like Syria, where women and children are particularly affected, UN Women is rendering much-needed assistance to respond to women's humanitarian needs. UN Women supports women in Syria and elsewhere to make their voices heard," she added.
Nicole Kidman was appointed as UN Women Goodwill Ambassador to promote women's rights worldwide. A strong focus of her efforts has been on ending violence against women, a pandemic which is likely to affect one-in-three women in their lifetimes. Ms. Kidman has also served as the international spokesperson for UN Women's Say NO – UNiTE to End Violence against Women initiative, and has travelled to meet with survivors of sexual violence and raise attention to this pervasive human rights violation worldwide.
Source: UNWomen.org