The nation's top therapy dog, a pit bull named Elle (pronounced Ellie) from Roanoke Rapids, North Carolina who helps teach children about dog safety, reading, and overcoming prejudice and stereotypes – something a pit bull knows too much about – has been named this year's "American Hero Dog" at the 2013 American Humane Association Hero Dog Awards.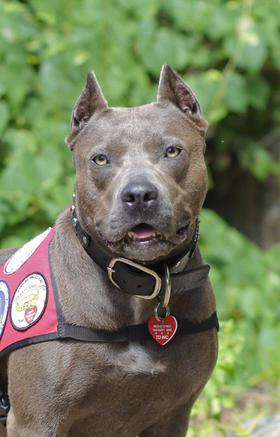 Elle and her human companion Leah Brewer were presented with the nation's top honors last night at the star-studded Hero Dog Awards gala at the Beverly Hilton Hotel in Los Angeles. The awards are presented by the Lois Pope LIFE Foundation, Inc., broadcast nationally on Hallmark Channel, and produced by Emmy award-winning MRB Productions.
Elle is saving lives by teaching children dog safety (more than 2 million children are bitten by dogs each year) and making positive life changes for people by helping them overcome their fear of dogs. Since becoming a volunteer, Elle started a therapy dog reading program called "Tail Wagging Tales," helping children enjoy books and improve their reading skills. Elle is also making a difference by creating happiness all around while visiting her friends at an elementary school, a middle school, and a retirement home. Elle also reaches out to educate families about being responsible pet parents, sharing stories about her job as a therapy dog, and spreading positive awareness about dogs that are misunderstood, including pit bulls. This year's therapy dog category sponsor, as well as the online sponsor, is the leading animal health company, Zoetis. Elle's charity partner, which will receive $6,500 in financial support from the Hero Dog Awards, is the nonprofit organization, Hand in Paw.
The sold-out, star-studded awards honoring America's most courageous canines were hosted at the Beverly Hilton Hotel on Saturday by television and movie star Joey Lawrence, accompanied by a galaxy of stars and presenters including Betty White, Jennifer Coolidge, Esai Morales, Ryan O'Neal, Naomi Judd, Pauley Perrette, Lisa Vanderpump, Emmanuelle Vaugier, Bailee Madison, Rico Rodriguez, Brian Baumgartner, Megan Blake, Max Carver, Torrey DeVitto, Matt Leinart, Lauren Potter, Eric Christian Olsen, Ben Savage, Austin Stowell, Chef Michael Voltaggio, Danielle Fishell, Lori Loughlin, Daphne Zuniga, Victoria Stillwell and many more. Popular TV stars Jenni Pulos and Lisa Vanderpump served as Red Carpet hosts. The phenomenally talented Frankie Moreno, who in addition to his many hit records and accolades was named Las Vegas' Headliner of the Year, provided the lead musical performances with striking and original songs written especially for the awards that brought down the house. Before the show, singer and Billboard recording artist Shara Strand turned in a stirring performance of "I Will Carry You," which she wrote for American Humane Association, and guitarist Tom Caufield set a sensitive and lyrical tone during the Red Carpet, silent auction and gala dinner.
The Hero Dog Awards were created to celebrate the powerful relationship between dogs and people and recognize extraordinary acts of heroism performed by ordinary dogs. The event will be broadcast nationwide by Hallmark Channel on October 30 at 8 pm/7 Central. The 90-minute program will air as part of Hallmark Channel's Pet Project, the network's cross-platform advocacy campaign designed to celebrate the joy and enrichment animals bring to our lives.
During a nationwide search over the course of six months, 141 dogs from all across the country were nominated and more than a million votes were cast by the American public, culminating in the selection of eight extraordinary canine finalists.
"The American Humane Association Hero Dog Awards were created to honor some of the most extraordinary heroes the world has ever known, the very best of our 'best friends' – ordinary dogs who do extraordinary things," said Dr. Robin Ganzert, President and CEO of American Humane Association. "These courageous canines have gone above and beyond the call of duty, saving lives on the battlefield, comforting the ill, aged and afflicted, bringing hope to those who have lost it and reminding us of the powerful, age-old bond between animals and people. Choosing a top dog is difficult because they are all so terrific, but we are proud to announce Elle as the top American Hero Dog for 2013. As an organization that for years has fought breed-specific legislation (BSL), we are also pleased to honor a breed that has been often been unjustly maligned. We hope that Elle's story will help to underscore the many tremendously positive qualities of this breed."
The winner is chosen through a combination of public votes and voting by a panel of animal advocates and celebrity judges including Victoria Stilwell, Kristin Chenoweth, Candy Spelling, Miranda Lambert, Dr. Marty Becker, Michelle Forbes, Megyn Price, Prince Lorenzo Borghese, Blake Koch, Tara Harper, Jerry Means, Nancy Otte, Michael Hingson, Shara Strand, Maria Milito, and Ashley Rhodes-Courter.
Country star Miranda Lambert was awarded the National Humanitarian Medal for her longtime dedication to helping animals in need. In 2011 she and her MuttNation Foundation worked with American Humane Association to get relief to the animals affected by the Japanese earthquake, tsunami and nuclear disaster. In 2012 she and her foundation sponsored the winning Military Dog category of the Hero Dog Awards. And this year, following the EF-5 tornado that devastated Moore, Oklahoma, she, her foundation, and her family all worked to help our Red Star rescue team save animals in the disaster zone.
Source: PR Newswire