Martina McBride and her nationwide volunteer group, "Team Martina," set an ambitious goal to raise $20,000 in a four short weeks to help build the Chastain Park Conservancy Playground. In less than a month, over $27,000 came in for Play Chastain, a world class playground for children of all abilities and needs in Atlanta. The group's final total was $30,000.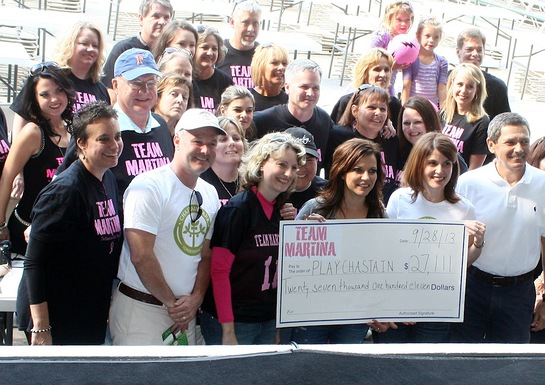 "Once again, I am extremely proud of Team Martina and their dedication and passion for helping make the world a better place," said Martina. "This playground will be an all-ability green space that will serve thousands of children in the area. We all know playing outside is important for children's health and development. I'm looking forward to seeing the finished space."
Team Martina's Sound Check for Kids partnered with www.Crowdrise.com for the campaign, which culminated with Martina's September 28, 2013, performance at the Chastain Park Amphitheatre. The first 50 fans who raised a minimum of $200 were invited to an exclusive party at Martina's sound check prior to the concert that evening. Anyone who donated at least $15 had a chance to win Martina's personal copy of Pat Benatar's memoir, and donors of $25 and above were entered into a sweepstakes to win the dress Martina wore at the 2013 Kentucky Derby.
The thrill of the day was captured in this video. Fans may still donate to Sound Check for Kids by visiting the website here and clicking on the "DONATE to this Fundraiser" button.
Team Martina, a nationwide and global community service group of country music fans dedicated to making the world a better place through volunteerism, has raised more than $100,000 for various causes since 2011. The group recently raised over $40,000.00 for Nashville's Vanderbilt Ingram Cancer Center.
Interested in being a part of Team Martina? Email sheila@teammartina.com