Prince Harry has hailed the courage of 12 wounded servicemen and women who are about to race each other across Antarctica.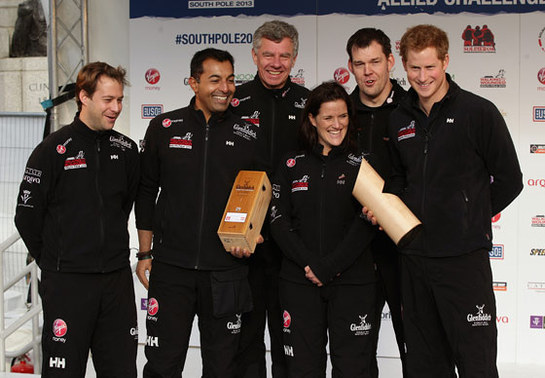 The 29-year-old will join a team of four injured British soldiers as they take on groups from the Commonwealth and the United States in the 200-mile Walking With The Wounded charity trek.
The teams gathered in Trafalgar Square in central London last week to unveil the trophy they are competing to win.
In a speech, Prince Harry said: "All the men and women behind me have achieved so much just to get here, let alone actually walk to the South Pole.
"I think it's just a wonderful display of courage from their part and it means so much to everybody else, as it should do, here.
"The cause is for one cause and one cause only, and that's to raise awareness for all the wounded, sick and injured, whether it's in military life or whether it's in civilian life.
"These guys aim to achieve something quite remarkable, and in doing so will prove to everybody else that even though you've lost a leg or lost an arm, or whatever your illness may be, that you can achieve pretty much anything if you put your mind to it."
The Virgin Money South Pole Allied Challenge 2013, of which Prince Harry is patron, will see the teams race across three degrees to the South Pole.
All 12 injured service personnel from Britain, America, Canada and Australia have overcome life-changing injuries and undertaken challenging training programmes to prepare themselves for the conditions they will face in Antarctica.
The UK Team Glenfiddich will be joined by Harry, Team Soldier On from the Commonwealth will include actor Dominic West, while the US Team Noom Coach will line up alongside actor Alexander Skarsgard.
Each team also has a mentor and a polar guide.
Prince Harry said: "This trip is another way of reminding everybody that as Afghanistan draws down – and these guys aren't in the news any more so than they already are – it's a reminder to everybody that the support must continue.
"Antarctica is the only place on earth that is still as it should be. May we never taint that."
He added: "I can assure that the boys and girls behind me will do their very best."
The teams left the UK for South Africa on Sunday before flying to Novolazarevskaya Station in Antarctica on 19th November, where they will spend a few days getting used to the conditions.
Once acclimatised, the teams will fly to 87 degrees south, where they will spend further time acclimatising to the altitude.
The expedition to the South Pole will begin from 87 degrees south on 30th November, with the teams hoping to reach the geographic South Pole by December 16.
The distance will be divided into managed stages and checkpoints, and due to the hostile conditions and the nature of the injuries involved, the expedition teams will be followed by a support team who will be on hand in case of emergencies.
Each team will represent and raise funds for military charities from the constituent nations: Soldier On from Canada, Soldier On from Australia, Soldiers to Summits from the US and Walking With The Wounded from the UK.
Trekking around 15km to 20km per day, the teams will endure temperatures as low as minus 45C and 50mph winds as they pull their 70kg sleds, known as pulks, towards the southernmost point on the globe.
Source: PrinceHenryOfWales.org