The Prince of Wales stood side-by-side with the three main political party leaders as he helped launch a campaign to bolster youth volunteering yesterday.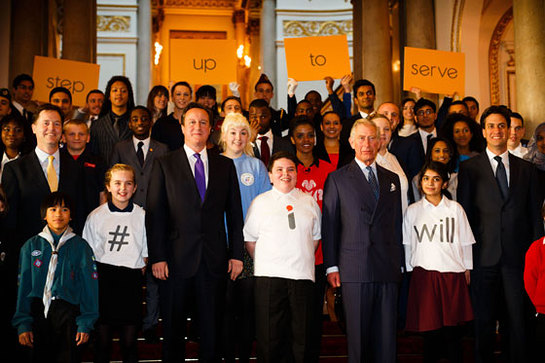 Launching Step Up to Serve at Buckingham Palace, The Prince, Prime Minister David Cameron, Liberal leader and Deputy Prime Minister Nick Clegg, and Labour leader Ed Miliband called on more youngsters aged 10 to 20 to get involved so participation levels are doubled to more than 50 per cent by 2020.
His Royal Highness described it as "a huge but exciting challenge", but admitted "that it may look as though we have bitten off more than we can chew".
He told nearly 200 invited guests and supporters including business leaders, education and community workers – plus Barry and Margaret Mizen, the parents of murdered schoolboy Jimmy Mizen – that youth organisations can help transform lives.
This must be a "giant, unique and collaborative effort", according to The Prince, and it will provide "many more structured, constructive and challenging and adventurous opportunities for young people".
The Mizens met The Prince the year after their 16-year-old son Jimmy was killed in Lee, south-east London, in 2008.
Jimmy died in his brother's arms after Jake Fahri hurled a glass dish at him in a bakery following a trivial row. A shard cut his throat and he bled to death.
Since Fahri's conviction in 2009, Mr and Mrs Mizen have been campaigning to end the violence in London through the Jimmy Mizen Foundation.
"I think that what today is about is not giving up on our young people," Mrs Mizen said. "There is no politics in this. It is about our young people."
Mr Mizen said: "We have always said since the early days after Jimmy's death that the changes that we need to certain areas of our society will only come when we all take responsibility for our own actions.
"There is a part for everybody to play and for everybody to be part of improving society."
It is hoped that 1.7 million more young people aged 10 to 20 will be spurred on to make social action – defined as "practical action in the service of others" – a habit for life.
This target would add almost 90 million hours of voluntary work per year, worth almost £700 million to the UK economy. In Canada an estimated 58 per cent of young people participate, over half of them giving more than four hours each per month.
It is hoped that a life-long culture of volunteering will be created through the campaign.
Businesses, education institutions, faith groups, youth organisations and voluntary groups across the UK are all backing the campaign.
Step Up to Serve calls for people across the UK to sign-up and volunteer at the website www.stepuptoserve.org.uk/iwill. They can also pledge a personal #iwill commitment and share it on Twitter.
Source: PrinceOfWales.gov.uk