BOVET 1822 (the Swiss luxury timepiece company) owner Pascal Raffy recently joined Artists for Peace and Justice's (APJ) New York City Holiday Gala to support fund raising efforts to create positive change for the future through education for children in Haiti.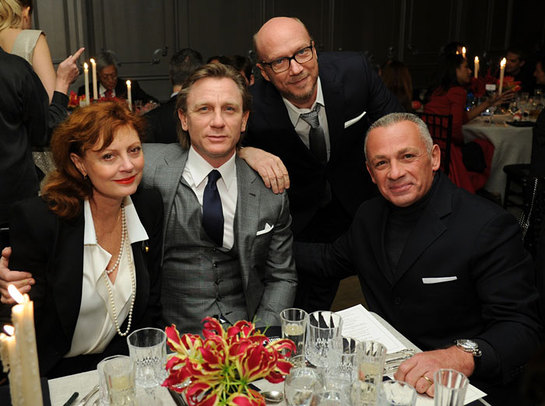 Daniel Craig, Susan Sarandon, and Mr. Raffy, APJ Advisory board members, were joined by renowned artist Chuck Close and actress Heather Graham. Together, BOVET 1822 and APJ raised more than $700,000 that night for the children of Haiti.
Pascal Raffy and friend Paul Haggis, Oscar award winning film director and founder of Artists for Peace and Justice, also announced the continuation of a beautiful partnership which had already raised over $1,800,000 this year. Five years since its foundation, Artists for Peace and Justice has built Haiti's largest free high school and first free vocational college, providing over 2,200 underprivileged children the opportunity to continue their education beyond fifth grade. Committed to continuing these efforts toward a brighter future, BOVET 1822 is pleased to announce a minimum five year partnership with APJ.
February 2012 marked the first introduction of BOVET 1822 to APJ and their cause as they stepped in to be the main supporting sponsor of APJ's pre-Oscar event in Hollywood. Drawn to the emotion and sincerity behind the cause, it was no surprise that Bovet was back again in February 2013 as the main sponsor and helped successfully raise over $600,000 that evening.
A luncheon in Toronto was added to the calendar this September and BOVET was by APJ's side again with another successful day raising over $500,000, bringing the total funds raised that year to over $1,800,000.
With three events already on the horizon for next year, the future looks brighter for the children in Haiti as Artists for Peace and Justice and BOVET are jointly committed to directing art towards its noblest cause-that of serving education and future generations.