A Merry Christmas came to Skid Row on Christmas Eve.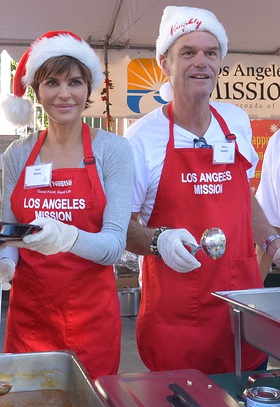 The celebration was made possible by the generosity of hundreds of the Los Angeles Mission's dedicated volunteers and hard-working staff. Faithful Mission supporters, through both large and small donations, came together to supply the need for Christmas. As a result of their efforts, thousands of toys and goodies were gift-wrapped and given out by Santa and his helpers to children delighted to be in a Christmas wonderland setting. At the same time, nearly 4,000 sat down to enjoy a gourmet dinner (served by Hollywood celebrities and local political leaders) in the Christmas decorated alfresco dining area on Fifth Street.
Among the stars who took part were Bella Thorne, Karina Smirnoff, Lisa Rinna, Shaunie O'Neal, Joey Luthman, Kate Linder, Harry Hamlin, Jo Frost and many more.
Toyota and Nestlé stepped up to be the primary sponsors of the event. JAKKS Pacific, Imperial Toys and "A Foundation for Kids" donated thousands of toys distributed to children and their parents. As well as furnishing toys, The Festival of Children Foundation created an amazing winter wonderland with their "Sharing the Spirit Holiday Party" tent presented by Center for Living Peace.
"Expressing love for those who feel forgotten is what we do here. We especially appreciate the unceasing generosity of the people of Los Angeles and our surrounding communities at Christmas," said Herbert L. Smith, President of the Mission. "Their support gives us the ability to ramp up what we do everyday into a delightful Christmas celebration. We get to see joy on the faces of those going through tough times. Special events like this help to encourage them that their lives can turn around and be different."
A lot of thought and preparation went into making this event work for children of all ages. Volunteers spent hundreds of hours sorting and wrapping the gifts so they could be distributed in an age and gender appropriate manner. All the toys were gift-wrapped to give children the choice of opening their gifts immediately or waiting until Christmas morning.
The Sharing the Spirit Holiday Party featured Santa, Christmas trees and every kind of seasonal decoration and joyful music along with fun crafts for the children. Nestlé also donated candies, and ice cream treats. Plus, they supplied lots of bottled water.
Los Angeles Mission Chef Chris Cormier and the kitchen staff worked for weeks to design and prepare a special holiday feast. The menu featured Orange Glazed Ham, the Mission's famous Three-Cheese Macaroni, Thyme and Baby Carrots, fresh Brussels Sprouts, a cranberry relish and dinner rolls. The meal was complete with fruit pies for dessert.
A ton and a half of ham was glazed, baked and sliced; 800 pounds of macaroni was prepared with a blend of three different cheeses and baked with a breadcrumb topping; 400 pounds of fresh baby carrots were steamed with thyme, along with 400 pounds of Brussels Sprouts, 4,000 cups of cranberry relish, 4,000 dinner rolls and 500 fruit pies prepared and served.
"The Los Angeles Mission helps those most in need and alone during the holidays, and we're proud to lend our support and volunteer time to its meaningful cause," said Michael Rouse, vice president of philanthropy, community affairs and diversity & inclusion for Toyota Motor Sales, U.S.A., Inc. "Toyota has a broad commitment to understanding the needs of our communities and making an impact through the help of our generous associates, families and partners."
"We are privileged to support and partake in the Christmas Eve festivities with the Los Angeles Mission," said Rita Henderson, Manager Community Affairs, Nestlé USA. "In the present climate where the needs are so great and resources scarce, the Los Angeles Mission is truly making a difference in our community and deserves our support. It is fulfilling for our Nestlé employee volunteers to do their part to give back to the community, especially during the holiday season when so many are doing without."
"The Los Angeles Mission is very grateful to everyone whose donations made today's event possible," said President Smith. "Some sixty percent of our annual operating budget is raised in the final three months of the year. We grapple with the harsh reality of trying to meet more need with fewer finances. The impact of this tough economy hits us hard every day as more individuals and families come to us for help. This means we work very hard to get the most out of every dollar that is donated."
"JAKKS Pacific is pleased to support the Los Angeles Mission once again, and create a magical experience for many deserving children and families in Los Angeles," stated Anne-Marie Grill, Vice President of Corporate Communications & Philanthropy, JAKKS Pacific, Inc. "For many children here today, the toy that we give will be the only present they receive all year. We are happy to work with the Mission to bring smiles to under-served children this holiday season."
"Festival of Children Foundation supports children's charities nationwide, but today, we're focusing on bringing Christmas to the children served by the Los Angeles Mission," said Sandy Segerstrom Daniels, Founder and Executive Director of Festival of Children Foundation. "We're honored to have the opportunity to share our blessings with them. Christmas means a spirit of love, and that's what we want every child here today to feel…loved."
At the Los Angeles Mission, Tuesday morning began early (4:30 a.m.) for the staff and volunteers. There were last minute gift donations to wrap, and an elaborate dinner for 4,000 to prepare. Kitchen volunteers also stayed busy serving breakfast to those who came early to stand in line.
By 6:00 AM Fifth Street from Wall Street to San Pedro was closed to vehicular traffic and the street set up begun.
Many who came to Friday's event live in temporary housing in the Skid Row area, others stay in shelters, and many came from the streets. All are greeted by staff and volunteers with love and served a hearty meal and given holiday treats. As they waited to be seated and served, the guests enjoyed holiday music from a number of local musical groups and choirs.