Last week, Imagine Dragons teamed up with Kendrick Lamar for a truly "radioactive" Grammy Awards performance that viewers won't be quick to forget.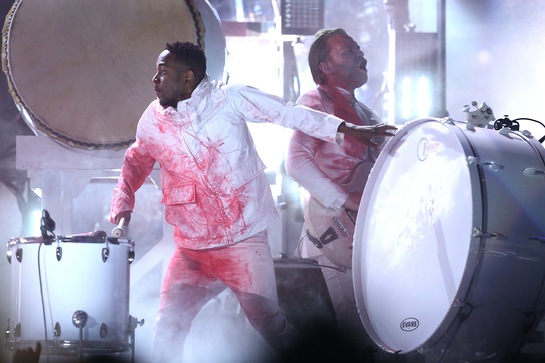 The Vegas-based alternative rock band gave a memorable and high-energy mash-up performance with a vibrant white stage, including an impressive white 36" concert bass drum that Imagine Dragons frontman Dan Reynolds, guitarist Wayne Sermon, and Kendrick Lamar took turns pounding on.
Following the award show's airing, Infitity Drumworks donated the drum to Hard Rock to become a permanent part of the brand's world-famous memorabilia collection. The drum will be available for fans to visit only in the band's hometown at Hard Rock Live Las Vegas, the venue where they kicked off their Night Visions tour the day after the album was released in September 2012.
In exchange for the drum, Hard Rock International made a generous donation to MusiCares on the band's behalf. Imagine Dragons joins an impressive list of artists that have donated music memorabilia throughout the years. The 77,000+ piece Hard Rock collection, which celebrates new and legendary music icons, is the world's greatest collection of music memorabilia.
"Our world-famous memorabilia collection is always growing with new and emerging artist donations, and we couldn't be more excited to add this new piece of award show history from Imagine Dragons," said John Galloway, Chief Marketing Officer for Hard Rock International. "We're constantly looking to further our mission to 'Love All – Serve All' and hope that our MusicCares donation can provide critical assistance to musicians in need."
Hard Rock and Imagine Dragons also recently teamed up for the Hard Rock Cafe Baltimore grand reopening in October 2013. The band helped Hard Rock celebrate the milestone with a red carpet ceremony, and a special live performance which included hit songs from their debut album, "Night Visions."
Imagine Dragons is following their extremely successful 2013 with an arena headlining tour early this year, before returning to the studio to start work on their sophomore album. Marked the "Into The Night" tour, the North American tour will kick off on Feb. 8, 2014 in Boise. The band's album "Night Visions," which includes the hits "It's Time" and "Radioactive," has sold more than 1.4 million units to date.
Committed to supporting music and musicians around the globe, Hard Rock International hosted more than 25,000 live music events worldwide in 2013. For more information on Hard Rock and the Imagine Dragons donation as well as the entire memorabilia collection, please visit www.hardrock.com.