Welsh actor Michael Sheen yesterday visited Hafod Primary School in Swansea to meet pupils and teachers to hear about how they've put children's rights at the heart of their school.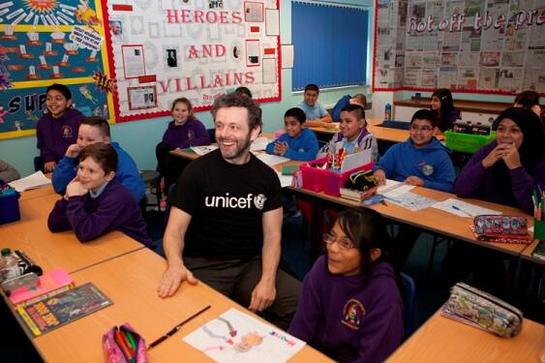 Hafod received UNICEF UK's prestigious Rights Respecting School (RRS) Level 2 Award in December 2010, the first school in Wales to do so. The Level 2 Award is the highest accolade granted by UNICEF UK and recognises achievement in putting children's rights at the heart of the school and encouraging pupils to respect the rights of their classmates.
Taking time out of his busy schedule, Sheen was able to see first hand the impact of UNICEF's RRS programme in Wales. Michael was given a guided tour of the school by pupils, who talked to him about what makes their school special.
Michael Sheen said: "I'm delighted to be here and to see the great work Hafod Primary has done in bringing children's rights to the forefront of the school's ethos. I've seen some of the amazing work UNICEF does around the world but seeing the positive impact here in my home country of Wales is particularly special. Everyone involved, especially the children, deserve our admiration and praise."
Rachael Webb, Headteacher at Hafod Primary School, said: "I'm really proud we were able to show Michael around Hafod school today. He seemed impressed and I know the children were very pleased to meet him. They showed him around and explained how a rights-respecting school like ours means children are aware of their own rights, and each others, leading to a more harmonious school and a stronger community."
UNICEF UK Deputy Executive Director, Anita Tiessen, said: "Hafod Primary School has very much impressed us with the way in which children learn in an environment that encourages and empowers them to make a difference both at home and around the world."
The RRS initiative involves almost 3,200 primary and secondary schools in the UK. Each shows commitment to embedding the values and principles of the United Nations Convention on the Rights of the Child into the school's ethos and culture. Rights-respecting schools have reported a positive impact on pupil behaviour and well-being, with increased self-esteem, better learning and less bullying.
Stage and screen actor Sheen is best known for his roles as Tony Blair in The Queen, David Frost in Frost/Nixon and Aro in Twilight. Michael started supporting UNICEF UK in 2010 when he took part in that year's Soccer Aid.
Early in 2013, Michael visited UNICEF projects in Chad to see how money raised by the UK public had made an impact on child hunger. In November 2013, Michael travelled to Lebanon to meet refugee children who had fled the Syrian conflict.