Actor and UNICEF supporter Michael Sheen has been visiting Chad to see how money raised during last year's Soccer Aid match is making an impact on child hunger.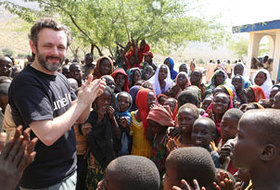 The celebrity football game raised nearly £5m for UNICEF's work for children, thanks to all donations from the UK public being matched pound for pound by the UK Government.
In Chad, recent drought and food shortages mean children are suffering from hunger and malnutrition.
The money raised through Soccer Aid and matched by the UK Government is helping UNICEF strengthen health systems in the country so more children can be screened for malnutrition and be reached with life-saving care. Children are also receiving vaccinations against killer diseases, and mosquito nets to stop them getting deadly malaria while they're sleeping.
Aid from countries like the UK can make the difference between life and death for a malnourished child. Find out about UNICEF's 2013 campaign against child hunger here.
Source: UNICEF UK