Hollywood is a long way from Indiana, yet the Best Friends Pet Adoption & Spay-Neuter Center in Los Angeles recently became the perfect double for the fictional Pawnee Animal Shelter on NBC's hit comedy "Parks & Recreation."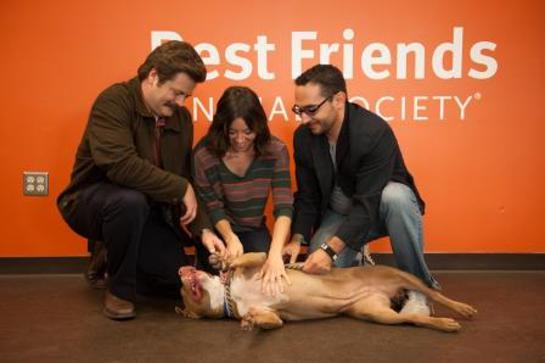 Currently in its sixth season, the critically acclaimed, award-winning series has been included on dozens of television critics' Top 10 lists. Three-time Emmy nominee Amy Poehler recently won a Golden Globe for her role as the ever-optimistic Leslie Knope.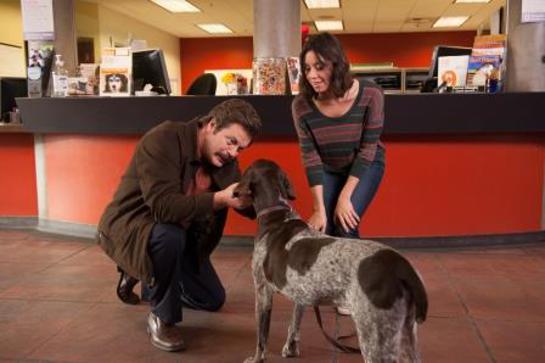 Airing on Thursday, Feb. 27 at 8:30 p.m./7:30 central, the episode features Ron Swanson (Nick Offerman) on a quest to adopt a dog for his two stepdaughters. With April (Aubrey Plaza), the newly named Pawnee director of animal services as his guide, will the cynical Swanson find the perfect canine companion? Viewers are encouraged to tune in and find out.



Excitement was high among employees at Best Friends Animal Society-Los Angeles when it was announced the hit show would film at the center. Executive Director Marc Peralta, a fan of the show, said: "One of the benefits of working in Los Angeles is having incredible opportunities like 'Parks & Recreation' filming here, which in turn helps Best Friends promote the adoption of homeless pets. Whether you live in Pawnee or Pasadena, adoption is the best lifesaving option when it comes to adding a pet to the family."

Best Friends Animal Society is the only national animal welfare organization focused exclusively on ending the killing of dogs and cats in America's shelters. An authority and leader in the no-kill movement since its founding in 1984, Best Friends runs the nation's largest no-kill sanctuary for companion animals, as well as life-saving programs in partnership with rescue groups and shelters across the country. Since its founding, Best Friends has helped reduce the number of animals killed in shelters from 17 million per year to 4 million. Best Friends has the knowledge, technical expertise and on-the-ground network to end the killing and Save Them All.
Best Friends Animal Society Los Angeles is working collaboratively with animal rescue groups, city shelters and passionate individuals dedicated to making Los Angeles a no-kill city. As part of this mission, Best Friends hosts adoption and fundraising events, runs the Best Friends Pet Adoption & Spay Neuter Center in Mission Hills, and leads the NKLA (No Kill Los Angeles) initiative with a mission to turn Los Angeles into a No Kill city by 2017.


Like Best Friends Animal Society on Facebook