Keep Memory Alive's 18th annual "Power of Love Gala" honoring Gloria and Emilio Estefan continues to grow with an extended list of entertainment icons and celebrities performing in Las Vegas.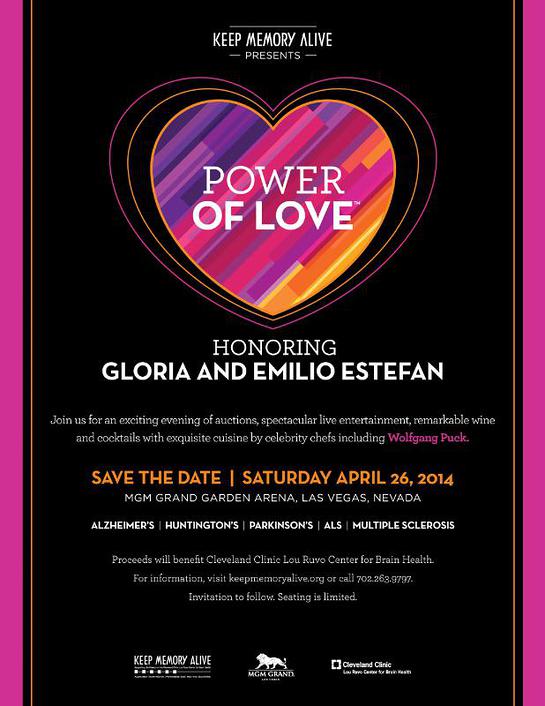 The star-studded tribute will take place on April 26, 2014, at MGM Grand Hotel & Casino, while raising funds in support of Cleveland Clinic Lou Ruvo Center for Brain Health and its fight against degenerative brain diseases such as Alzheimer's, Huntington's and Parkinson's diseases, multiple sclerosis and multiple system atrophy.
The celebrity guest lineup for the night includes a special performance by Gloria Estefan, along with heartfelt tributes from some of the world's hottest entertainers including GRAMMY award-winning recording artists Ricky Martin, Carole King and Jon Secada; Academy Award nominee Andy Garcia, recording artist and talk show hostess Queen Latifah; multi-award winning actress and singer Rita Moreno; platinum recording artist and actress Jordin Sparks; Emilio Estefan's new artist making her debut performance, Fantine; and more to be announced at a later date.
This dazzling star-studded gala will bring together the world's celebrities of music and film to honor the Estefan's advocacy for spinal cord injuries and research, which plays a role in degenerative brain diseases. Following a paralyzing tour bus accident in 1990, Gloria and Emilio founded The Gloria Estefan Foundation, whose goal is to assist in various causes focusing on children and spinal cord research. Gloria's father, Jose Fajardo, also suffered a fatal neurological disease stemming from his time served as a soldier in the Vietnam War, furthering her fight to bring awareness to these types of diseases.
A recipient of seven GRAMMYs and more than 100-million albums sold worldwide, Gloria has achieved renowned accolades including a star on the Hollywood Walk of Fame and the Las Vegas Walk of Fame, the Ellis Island Congressional Medal of Honor and the National Music Foundation's Humanitarian of the Year award. She also was honored with the American Music Award for Lifetime Achievement and is recognized by Billboard magazine as the single most successful cross-over artist of all-time.
Emilio has been instrumental in shaping, developing and directing the careers of his superstar wife, Gloria, as well as Jennifer Lopez, Jon Secada, Marc Anthony, Ricky Martin and Shakira, among many others. His resume includes a star on the Hollywood Walk of Fame and Las Vegas Walk of Fame, induction into the Songwriters Hall of Fame and 19 Grammy Awards. Gloria and Emilio Estefan have achieved incredible success throughout their careers, boasting more than 30 years of industry-leading achievements.
In keeping with its 17-year history, Keep Memory Alive's Power of Love Gala will include a celebrity chef dinner, a one-of-a-kind live and silent auction and a night of star-studded performances. The funds raised by the annual gala support Cleveland Clinic Lou Ruvo Center for Brain Health's mission to enhance treatments and research of brain disorders.
The evening's festivities will feature an extraordinary dinner prepared by superstar chefs Wolfgang Puck and Masaharu Morimoto, a remarkable silent auction and spectacular live entertainment with Shelly Berg as music director.
The Power of Love Gala is being produced by Bill Edwards Presents Inc. and supported by the Las Vegas Convention and Visitors Authority (LVCVA) and Keep Memory Alive, the fundraising arm of Cleveland Clinic Lou Ruvo Center for Brain Health.
For information regarding this unique celebration, please visit Keep Memory Alive's website at www.keepmemoryalive.org or call 702-263-9797.