Actor John Corbett is better known for his roles in movies and popular TV shows such as Northern Exposure, Sex in The City and My Big Fat Greek Wedding, but last Saturday he was shooting for the stars to help knock out Parkinson's disease by auctioning off a space flight with XCOR Aerospace to benefit Muhammad Ali's Parkinson's Research Center.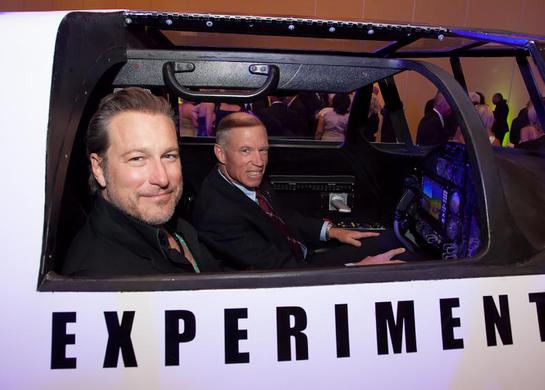 At the 20th Anniversary of Celebrity Fight Night's gala fundraiser, Mr. Corbett joined other entertainment industry luminaries such as Robert De Niro, Billy Crystal, Michael Buble, Reba McEntire and Kenny Rogers to raise $8+ Million for Muhammad Ali's Parkinson's Research Center at the Barrow Neurological Institute, Saint Joseph's Medical Center, Phoenix, Arizona and other deserving charities.
On the live auction stage Mr. Corbett and former Space Shuttle Pilot, Commander and XCOR Chief Test Pilot, Rick Searfoss were able to bring in a quarter million dollars for Parkinson's and related charities by selling a very special XCOR Lynx space flight package. The flight package includes a space flight training at Air Combat USA of Fullerton, California, a space suit fitting and an actual space flight experience onboard the XCOR Lynx, a two-seat fully reusable suborbital spacecraft. Searfoss will pilot two separate missions to the edge of space onboard Lynx, one with the auction winner and one with John Corbett.
Searfoss noted that "as someone who has personally witnessed Parkinson's through those close to me, I could not be more pleased to be able to contribute time to such a great foundation. And auctioning the flight onstage with John, well, I feel like I've already piloted the flight!"
In addition to his well-known roles in film and TV, John Corbett is a successful country musician. His self-titled debut country album climbed to number 42 on Billboard's Country Albums chart.
"This could not be for a more worthy cause, and it was an honor to be a part of it with Rick. As a child who was inspired by the Apollo program, I would never have dreamed that the experience of space would be so close at hand—until I connected with XCOR. To be standing at the threshold of an actual space flight is almost more than I can imagine."
Searfoss noted that each XCOR Lynx flight is "all of the experiences I had flying the Shuttle, all those phases of flight: the boost, the weightlessness." But the best part, he added, "is the fact that you're up in a pilot seat, with me, as opposed to being in the back like a passenger on an airliner. It's really a 'Right Stuff' experience. And I couldn't be more excited to share the opportunity for this experience with John and the winning bidder."
XCOR Retail Sales Director Greg Claxton added he "couldn't be more pleased with the results. What is truly out of this world is that we have the opportunity to be part of such a meaningful event. We look forward to continuing the adventure and contributing further to many more worthwhile causes in the very near future."