The Safeway Foundation and the Entertainment Industry Foundation (EIF) have announced they have raised more than $4.5 million in support of Hunger Is, a joint charitable initiative designed to raise awareness and funds to fight childhood hunger in America.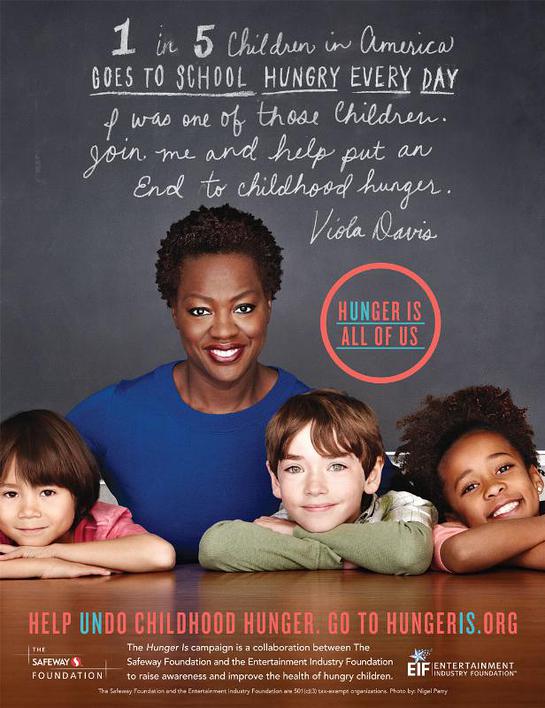 The campaign kicked off in April with a month-long in-store fundraiser in more than 1,300 Safeway stores across the U.S. Additional funds were generated through online donations at HungerIs.org. The year-round campaign encourages individuals and communities to get involved in solving this widespread problem that too often goes unnoticed and, according to the USDA, affects one in five children in America.
Concurrent with the launch of Hunger Is, public service announcements appeared on television, in print, online, and out-of-home media featuring Academy Award-nominated actress Viola Davis, who shared her compelling story about growing up hungry.
"I am so thrilled at the incredible success of this important initiative. Millions of children go to bed hungry every night and it's time we all take action to end this nationwide problem," Davis shared. She went on to say, "I'm looking forward to the continued momentum of this meaningful campaign as this is just the beginning."
"We are grateful to our customers, who heard our call to action and chose to help make a difference in the lives of children," said Larree Renda, Safeway Inc. Executive Vice President and Chair of The Safeway Foundation. "We are off to an amazing start and will continue our efforts with the Entertainment Industry Foundation and Viola Davis, who is a passionate champion in the fight against childhood hunger."
Funds raised through the campaign will go toward programs focused on eradicating childhood hunger and improving health-related and education outcomes. During this inaugural year, breakfast programs will be the focus, giving children a healthy start to their day and the best chance to excel. Research shows that children who eat breakfast have better school attendance and achieve higher math scores than children who lack adequate access to food.
In the coming months, the Hunger Is Project Advisory Committee will be convened, enlisting hunger experts from across the country with a critical understanding of how hunger affects children from rural to urban communities. These experts will include representatives of Hunger Is collaborators Feeding America – the nation's leading domestic hunger-relief charity; the Food Research and Action Center (FRAC) – the leading national nonprofit organization working to improve public policies and public-private partnerships to eradicate hunger and malnutrition in the U.S.; and No Kid Hungry – a campaign which connects kids in need with nutritious food and teaches their families how to cook healthy, affordable meals. The Project Advisory Committee will help identify hunger programs throughout the U.S. that will make a difference in reducing childhood hunger.
"We are so thankful for the incredible support for this campaign from Safeway customers, employees and the general public throughout the U.S., who agree it's simply unacceptable for our children to be hungry," said EIF President & CEO Lisa Paulsen. "Too many kids are not getting the nutrition they need to reach their full potential, and we're privileged to work with The Safeway Foundation to engage communities across the country in helping to change that."
More information about the issue is available at HungerIs.org, along with simple ways for individuals to donate.