Prince Harry gave a personal good luck message to the service personnel who will represent Britain at his inaugural Invictus Games when the 130-strong team was unveiled yesterday.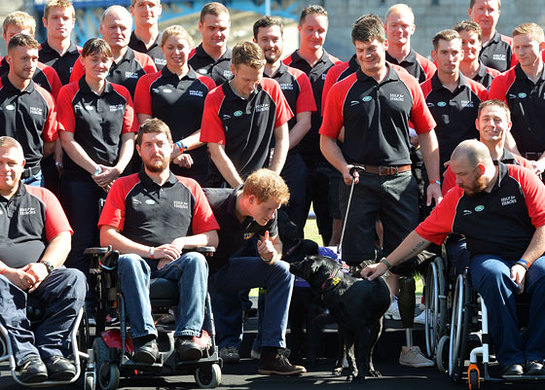 His Royal Highness cracked jokes and raised a laugh as he had to retrieve his speech when it blew away at the announcement of the biggest British military sports team ever assembled from wounded, injured or sick servicemen and women.
The competitors will take on rivals from 13 other nations in a Paralympic-style competition in London next month.
Addressing members of the team and the throng of media gathered near Tower Bridge, Prince Harry joked that he would get "so much banter" from the servicemen and women behind him.
He said: "Prosthetics, dogs, wheelchairs, high-performance cars, 4×4s, tattoos – we've got everything here. It could only be the Invictus Games."
As his speech blew away, raising laughter from the audience, Harry was forced to retrieve it, joking: "No blowing from the left, thank you."
His Royal Highness thanked the public and the media for their support of the games, which he has championed and are being backed by the Royal Foundation of The Duke and Duchess of Cambridge and Prince Harry and the Ministry of Defence.
He said: "To all of you behind me, I would like to congratulate you on making the team.
"These men and women here have achieved so much already but being selected for this team is another significant milestone in their life beyond injury."
He said the games were not just for those taking part, but for the "wider family" and added that the team would not just be competing for themselves but for their "mates".
Prince Harry, who also paused to ask "whose dog is that?" as one of the two dogs on the stage barked, thanked the families of all of those taking part, saying: "No one recovering from a life-changing injury could do it alone and everyone behind me will testify to that.
"The support of friends and family is vital and the games will recognise this enormous contribution. With the games only four weeks away, I cannot wait to watch this team compete against the other nations in the fantastic venues of the Olympic Park and Lee Valley."
The Prince told the gathered servicemen and women: "Guys and girls, I wish you all the very best of luck in the final weeks of training.
"We've got four weeks left, let's make sure we're in tiptop condition to beat everybody else and bring back as many medals as we possibly can – not forgetting it's the taking part that counts."
Prince Harry, who was joined by his brother, The Duke of Cambridge, on a surprise visit last week to athletes training for the event, posed for photos with members of the team, which is made up of 69% British Army, 23% Royal Navy and 8% Royal Air Force, with 58% veterans and 42% still serving.
Yesterday's team announcement follows a three-month training and trial period, where aspiring competitors undertook events in the nine adaptive sports that will feature in the games – archery, athletics, wheelchair basketball and rugby, cycling, powerlifting, indoor rowing, swimming and sitting volleyball.
The final 130-strong team, from across the UK, was chosen on criteria including commitment to training, performance, progression in their sport, and feedback from their coaches.
They will now continue their training in the run-up to the games, which start on September 10.
Read more here.
Source: www.princehenryofwales.org