Barack Obama has wished the teams competing in the Invictus Games well, as Prince Harry staged a party to welcome those taking part in the sporting spectacle.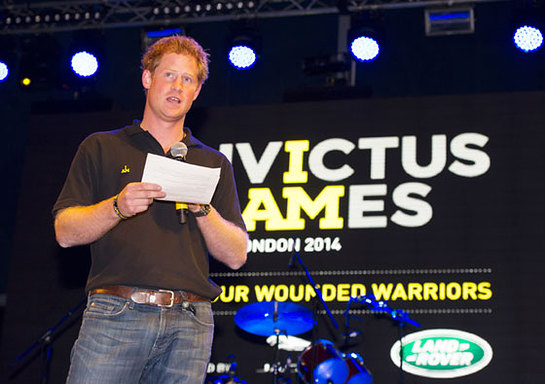 The American President recorded a video message of support for the wounded servicemen and women who have been chosen to represent their nations in the Paralympics-style championships.
Prince Harry also thanked the athletes, many with missing limbs or other serious injuries, for enthusiastically embracing the concept.
The Foo Fighters rattled the windows of the US ambassador's official residence, Winfield House in Regent's Park, as they entertained hundreds of guests at the party held in the building's sprawling garden.
The President said in his pre-recorded message played to the crowds who included the teams, their families and supporters: "I know it's going to be a fiercely competitive few days but the truth is that everyone of you in these games, every service member and veteran, has already earned our highest admiration and our deepest gratitude.
"When your countries asked you to serve, to risk everything to protect our safety and our freedom, you and your families answered the call and just as you inspire us with your courage on the battlefield, your grit and resilience when you take the playing field, your incomparable souls inspire us today."
Before introducing the band he jokingly dubbed the "old people", Prince Harry told the crowds: "It gives me great pleasure to welcome all of the competitors to London for the first Invictus Games.
"Thank you, from me, for embracing the concept so enthusiastically and coming all this way – some further than others – you really have no idea what you've let yourselves in for.
"As many of you know the idea was born from the US Warrior Games and therefore what better way to mark the start of the Games than at Winfield House."
More than 400 competitors, both serving military personnel and veterans, will go head to head in nine adaptive sports at the Queen Elizabeth Olympic Park and Lee Valley Athletics Centre in London over four days from Thursday.
Teams have travelled from the USA, Denmark, Estonia, France and Italy, Canada, The Netherlands, Australia, Afghanistan, Georgia, New Zealand and Germany.
Source: www.princehenryofwales.org