Wildlife conservationists, advocates and international celebrities including Yao Ming, Kathryn Bigelow, Maggie Q, Dylan McDermott and Bo Derek gathered at The Ritz-Carlton, San Francisco to support local San Francisco nonprofit WildAid and their innovative work to reduce consumer demand for wildlife products.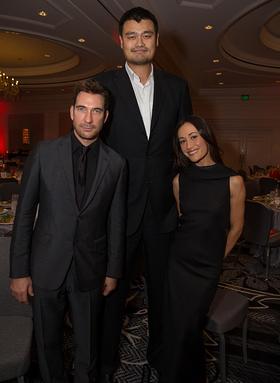 The gala event took place only days prior to the broadcast of WildAid's new documentary "Saving Africa's Giants with Yao Ming" on Animal Planet which premiered on Animal Planet in the U.S. on November 18 at 10 PM/9 Central and in the U.K. on November 21 at 9PM.
The program follows WildAid ambassador and former NBA star Yao Ming on a journey to Africa to see its natural beauty and witness the devastating elephant and rhino poaching crises.
The illegal wildlife trade is estimated to be worth over $10 billion annually and each year 33,000 elephants are killed for their ivory, rhinoceros are on the verge of extinction, and 73 million sharks are killed every year for shark fin soup. Killed for trophies, ornaments, food and medicine, these animals are pushed to the brink of extinction as a result of consumer demand.
WildAid's mission is to end the illegal wildlife trade in our lifetimes by reducing demand through public awareness campaigns. We have a strong and simple message: "When the buying stops, the killing can too."
Just as corporations employ celebrities to promote their products, WildAid enlists popular Asian and Western stars such as Yao Ming, David Beckham, the Duke of Cambridge, Edward Norton, Li Bingbing and Maggie Q to dissuade people from purchasing wildlife products. With an unrivaled portfolio of celebrity ambassadors and a global network of media partners, WildAid is able to deliver high-impact, culturally sensitive multimedia campaigns that reach hundreds of millions of people every week. WildAid's approach is getting promising results: In part due to WildAid's awareness campaigns, Shark fin sales have dropped 50—70% in China over the last two years.