Prince Harry has produced an amazing new photo blog from his recent visit to Lesotho, where he saw first-hand the impact of Sentebale, his charity helping vulnerable children.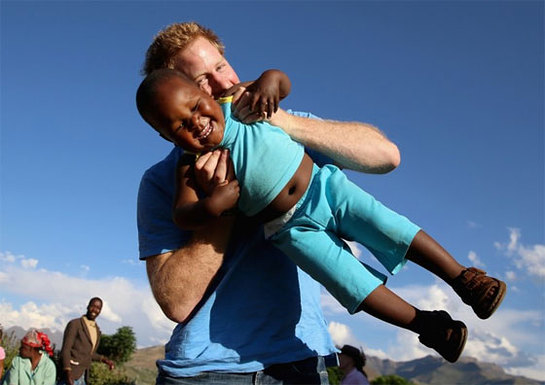 Lesotho has the world's third highest HIV infection rate and one in three children are orphans. Life expectancy is only 48 years.
Sentebale was founded by Prince Harry and his great friend Prince Seeiso, in memory of their mothers, the late Diana, Princess of Wales and Queen Mamohato. 'Sentebale' is Sesotho – the language of Lesotho – for 'forget-me-not'.
The Prince has released a small selection of his own images from the visit and has provided personal captions to a wider selection of photos. Click here to visit the Sentebale website to see the photo blog.
A major focus of Prince Harry's trip to Lesotho (between 5th – 10th December), was to view the construction and development of Sentebale's new Mamohato Children's Centre. The new facility will increase four-fold the number of vulnerable children Sentebale can support through healthcare and education. Using the existing Camp Mamohato initiative, the Centre will provide emotional and psychological support to children living with HIV. During the visit Prince Harry attended a number of workshops and activities that help children with HIV develop greater confidence and self-reliance and address the stigma surrounding them.
Writing in a caption to a photograph taken at the Camp Mamohato Centre, Prince Harry said: "These are children who have never had the chance to talk about their illness, and who had no idea that they were one of so many in their age group. It was really emotional watching them interact with each other. Some really outgoing chatty kids, others slightly overwhelmed, but all with huge smiles. This confirmed to me again that what we're doing is going to change thousands of children's lives, and hopefully save a generation."
About taking his own photographs, Prince Harry said: "I have always enjoyed photography and the challenges that come with trying to capture the perfect shot, although privately I don't take many photos.
"The best photos I have are in my head – I have some very special memories, mostly from Africa. But on this visit, I had the time and opportunity to be on the other side of the camera and take some photos in the stunning country of Lesotho for my charity Sentebale."
In the blog, Prince Harry talks about the collaboration with his father's charity, The Prince's Foundation for Building Community (PFBC). Founded by The Prince of Wales, PFBC worked with a local architect to help design the Mahamoto Children's Centre to be both sustainable and beautiful, inspired by the mountain environment of Lesotho.
The centre's layout reflects that of a village, and facilities will include accommodation cabins, activity rooms, various camp facilities and sporting pitches. Find out more about the centre and its design.
During the visit to Lesotho, Prince Harry also travelled to the highlands of Mokhotlong to see the herd boys (young shepherds), who are benefitting from Sentebale's night school programme, offering basic education and life skills.
Alongside Prince Seeiso of Lesotho (Sentebale's co-founder), Prince Harry then took the opportunity to visit some of Sentebale's community partners who support and educate orphans and children living with multiple disabilities, including the Thuso Centre, Pehlisanong Home, Touching Tiny Lives and Mant'sase orphanage.
Cathy Ferrier, CEO of Sentebale said, "This visit was a great opportunity for Prince Harry to revisit Sentebale's work in country, meet the children and see the positive impact of our programmes. He also had a chance to put his personal input to the next phase of the building of the Mamohato Children's Centre. All the team at Sentebale are excited to see the plans for the new children's centre coming to life and are looking forward to the opening in 2015. We can't wait!"
Source: www.princehenryofwales.org