Fresh off her Oscar win for Best Supporting Actress ("Boyhood"), humanitarian Patricia Arquette is launching an awareness and fundraising campaign with Chideo to support GiveLove, the non-profit organization she co-founded in 2010 to support ecological sanitation and composting, community development projects, and housing construction after Haiti's devastating earthquake.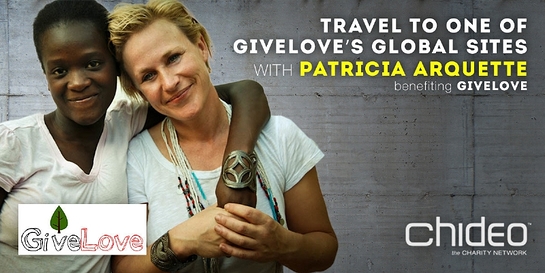 As Chideo's newest Celebrity Ambassador, Arquette wants to leverage both her professional success and the power of the charity network to shine a light on critical public health issues in developing countries and inspire her fans to make a difference.
"I've always loved acting, but when I started my work with GiveLove, I realized the most important work of my life was not going to be acting. The most important work of my life was going to be making sure people had improved sanitation," Arquette said. "I'm grateful for this moment (in my acting career), and I feel like this moment is happening because it's the work we're all supposed to be doing."
Staying true to her hands-on approach, Arquette is offering one lucky fan and a guest the opportunity to spend the weekend with her at one of GiveLove's international project sites. This boots-on-the-ground experience is an inspirational adventure that will change the lives of all involved. Here's how it works: between now and March 26, 2015, visit Chideo.com or download the free app, watch Arquette's exclusive videos, and donate a minimum of $10 to GiveLove for a chance to win the "Give Love to Those Who Need it Most Experience." In addition to extra contest entries, donations of $25 or more receive the following rewards:
• $25: Donor receives a digital thank you video from Patricia Arquette
• $50: Donor receives a signed photo of Patricia Arquette and a digital thank you video
• $100: Donor receives a CD of the "Boyhood" movie soundtrack
• $500: Donor receives a coffee table book about the making of "Boyhood" signed by Patricia (only 50 available)
For complete details (including free entry method) and to register for a chance to win, please visit Chideo.com or download the free Chideo app, available for iPhone, iPad and iPod touch at www.appstore.com/chideo, and for Android devices here.