Grammy Award-winning musician Foxes, model and presenter Abbey Clancy, Victoria's Secret Angel Lily Donaldson and model and musician Alice Dellal are taking part in Fashion Targets Breast Cancer in 2015, the UK's most stylish charity fashion campaign.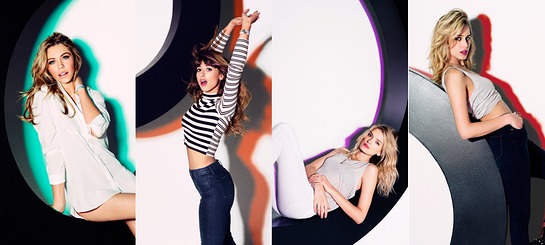 This year's poster campaign is shot by globally renowned photographer Simon Emmett.
Representing the best and brightest of British talent, this year's coterie of cover girls are the ones to watch in 2015. Already successful in their fields in the UK and internationally, each star brings their own unique look to the campaign, inspiring women across the UK to showcase their style and wear their support in the fight against breast cancer.
"Fashion is a huge part of my life, and if by taking part I can inspire women to wear their support, join the fight and take on breast cancer head on, that'll be something to be really proud of," said Foxes.
Launched by Ralph Lauren in 1994, Fashion Targets Breast Cancer unites the world of fashion as a force against breast cancer. The iconic campaign hit the UK in 1996, bringing the best of British style and talent to the fight. Since then, Fashion Targets Breast Cancer has empowered UK women to wear their support, raising more than £13.5 million for pioneering research charity Breakthrough Breast Cancer.
"As a mum, it makes me proud to be part of a campaign that funds vital work ensuring the next generation of young women won't have to be afraid of a breast cancer diagnosis," said Abbey Clancy.
"By wearing their support, women across the UK are joining together to say "We've had enough of breast cancer" and bringing us closer to the day we no longer have to be afraid of this terrible disease," added Lily Donaldson.
They follow in the footsteps of Fashion Targets Breast Cancer alumni Kylie Minogue, Kate Moss and Naomi Campbell, Emeli Sandé and Jessica Ennis-Hill.
Find out more here.