Special Olympics recently announced today that author and television personality Maria Menounos of E! is joining the Special Olympics family as the movement's newest Global Ambassador.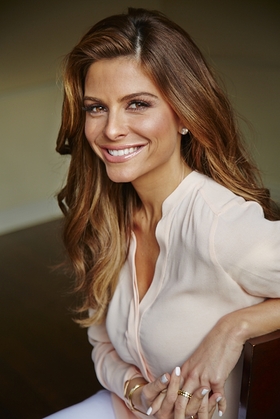 Menounos will support Special Olympics by leading a celebrity engagement campaign for the upcoming Special Olympics World Games and by promoting acceptance, inclusion and respect for people with intellectual disabilities. She will also serve as a co-captain on the just announced Special Olympics Unified Relay Across America presented by Bank of America that will kick off on May 26th.
"I am honored and proud to raise awareness for Special Olympics as a Global Ambassador and I am thrilled to join the movement at such an exciting time," said Maria Menounos. "Fitness and sports are a vital part of my life and I find inspiration in the determination and spirit of the athletes of Special Olympics and I want the world to know that people with intellectual disabilities need to be included and respected in our society."
One of Menounos' first actions will be leading a route of the Special Olympics Unified Relay Across America where the nation will be able to carry the torch and help deliver the Flame of Hope to the Special Olympics World Games. For 46 days, from May 26 to July 10, in the first known torch relay to cross all 50 states, over 20,000 participants will run, walk or bike over 10,000 segments of the relay. The Unified Relay is a team and individual fundraising event. Three simultaneous relay routes will cover almost 21,000 miles of the US, starting their individual journeys in Augusta, Maine, Miami, Florida and Washington, DC and unifying in Los Angeles.
"We are excited to welcome Maria Menounos to our Special Olympics family," said Peter Wheeler, Chief of Strategic Properties, Special Olympics. "Maria's enthusiasm, spirit and tenacity are a perfect fit with our movement and for paving a way for acceptance and inclusion of our athletes throughout the world."
This summer's World Games will be Menounos's second time joining Special Olympics for their flagship event. Menounos participated in the 2011 Special Olympics World Summer Games in Athens, Greece where she was a part of the Opening Ceremony and a thought leader with the speaker series held during the nine-day event.
Maria Menounos joins a prestigious list of Global Ambassadors including Her Serene Highness Princess Charlene of Monaco, Nadia Comaneci, Elena Delle Donne, Joe Haden, Scott Hamilton, Padraig Harrington, Yuna Kim, Yang Lan, Damian Lillard, Yao Ming, Ricardo Montaner, Dikembe Mutombo, Hidetoshi Nakata, Apolo Anton Ohno, Michael Phelps, Hannah Teter, Vanessa Williams and Yang Yang.