The entertainment industry turned out in force on Saturday night in support of MPTF's (Motion Picture & Television Fund) fourth annual "Reel Stories, Real Lives" event, a unique evening of powerful readings which told the stories of industry members and their families who have benefitted from MPTF's services in recent years.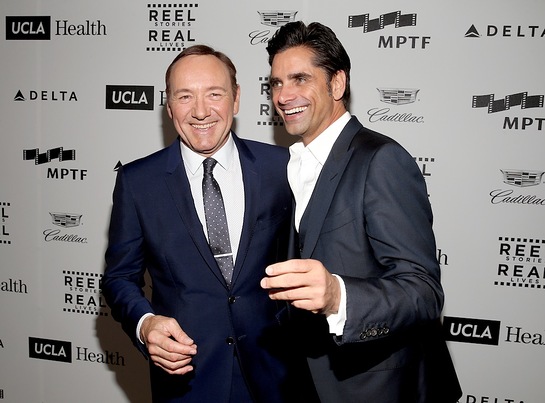 The event, held at Milk Studios, featured readings by renowned Hollywood actors including Lizzy Caplan, Tony Goldwyn, Tobey Maguire, Alessandro Nivola, Mira Sorvino and John Stamos.
Each story was written by some of Hollywood's leading feature and television writers including Bill Dubuque, Jason Fuchs, Jason Hall, John Hoffman and Beau Willimon. This year's show also included a special tribute to Kevin Spacey in honor of his dedication to MPTF.
"My involvement with MPTF began 15 years ago at the Kevin Spacey & Friends event where I witnessed Hollywood's finest telling amazing stories about nine industry veterans living at MPTF on the Wasserman campus," said MPTF President and CEO Bob Beitcher. "The pride I felt that night to be a part of the entertainment community that cares so much for those who came before us inspired me to get more involved and I am thankful that I did."
The evening drew approximately 500 industry leaders, and celebrity guests including Yvette Nicole Brown, Dana Brunetti, Robert Herjavec, Kym Johnson, and more.
The event was produced by Guymon Casady, Julie Darmody, Bill Gerber, Eric Kranzler, Kevin McCormick, Karen Rosenfelt, Greg Sills, Courtenay Valenti, and Warren Zavala.
Jeffrey Katzenberg, Chairman of the MPTF Foundation said "My thanks to Kevin Spacey for bringing such a powerful message to the next generation of Hollywood at this year's Reel Stories, Real Lives event – his call to action as he first did 15 years ago at a similar evening is certain to bring new energy to the mission of caring for our own. The stories told, crafted by the creative community, inspired us all to do what we can to support the industry's safety net for those in need."
"For 94 years, each new generation of Hollywood comes to realize the uniqueness of an industry that not only honors the content it makes, but equally important the people who make it through the charity – MPTF," said CEO of MPTF Foundation Ken Scherer. "Caring for our own is the theme of Reel Stories, Real Lives and my sincere thank you to all the industry volunteers who make this night happen and especially to Kevin Spacey for being the champion for the cause for the past 15 years."
The evening was generously supported by UCLA Health, Cadillac, and Delta Air Lines.