Last week, World of Children Award, an organization dedicated to setting the gold standard in child advocacy, hosted its inaugural 2015 Alumni Honors event emceed by Brooke Burke-Charvet at Il Cielo in Beverly Hills.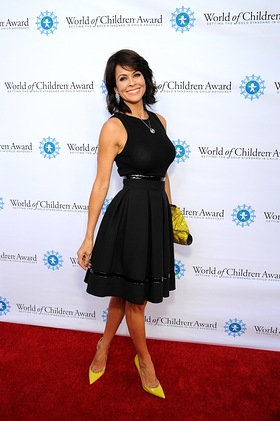 Since 1998, the organization has recognized, funded and elevated over 100 child advocates in the world, and for the first time recognized three previous World of Children Award honorees Jessica Markowitz (2009 World of Children Youth Honoree), Triveni Acharya (2013 World of Children Humanitarian Honoree) and Dr. Ricardo Bennun (2007 Health Honoree) for the way they leveraged their award far beyond what was anticipated with an alumni honors event.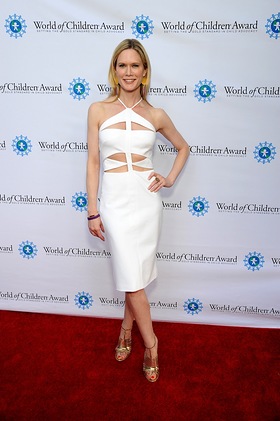 Attendees at the sold-out benefit included emcee Brooke Burke-Charvet in an Alice + Olivia top, Tamara Mellon skirt, Christian Louboutin heels (TV Personality, Actress, and CEO of ModernMom) along with husband David Charvet and their daughter Rain Charvet, son Shaya Charvet and Burke's daughter Neriah Fisher, Stephanie March in a white Cushnie Et Ochs cutout-bodice halter dress (World of Children Award Celebrity Ambassador / Law & Order: Special Victims Unit), Brian Grazer (Honorary Chair / Executive Producer, Empire) along with fiancée Veronica Smiley (Honorary Chair), Michael York (Actor), Adam Shulman (Event Co-Chair, Co-Founder & Designer of James Banks Design), Heidi Nahser Fink (Co-founder & Designer, James Banks Design), Kay Isaacson-Leibowitz and Harry Leibowitz (Co-Founders & Co-Chairs, World of Children Award), and more.
The 2015 Alumni Honors event raised more than $275,000 for vulnerable children, and due to generous support and success of the fundraising efforts, World of Children Award increased the Alumni Honor cash grants by 60% – from $25,000 to $40,000 for each of the three honorees.
In light of the devastating earthquake in Nepal, the honorees voluntarily donated 10% of their cash grants to the Nepal Earthquake Relief, which would help two of their fellow World of Children Award Honorees – who are struggling to save children's lives in the aftermath of the earthquake in Nepal.
Special guest of the evening was Grace Umutesi from Rwanda, one of the original students supported by Jessica Markowitz's Richard's Rwanda-
IMPUHWE
. Grace shared her courageous story of surviving the Rwandan Genocide 20 years ago and now excelling in school, scoring at the top of her class, thanks to the program. During the event, Stephanie March surprised her with the World of Children Award grant of $5,000 towards her education.