The Prince of Wales visited The Prince's Trust projects in London this week as he embarked on a series of events highlighting his charity's work.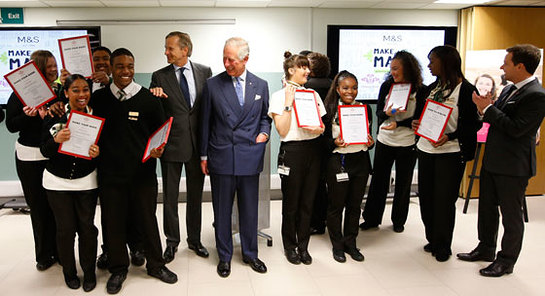 His Royal Highness was greeted by the friendly face of Anthony McPartlin and when he took the escalator to the basement floor serving behind the deli counter was the other half of the TV double act Declan Donnelly.
The Prince was visiting the store to learn how a group of young people have got to grips with the Make Your Mark four-week work placement scheme, a collaboration between M&S and the Trust.
Behind the counter was Rebecca Blythe, 23, who moved from South Wales to London with her partner for a new start but found herself struggling to get a job.
She said: "I'm glad I've done this, the four weeks have been a great success and I've made lots of new friends."
At a reception The Prince handed out certificates to all those who had taken part in the Make Your Mark course then M&S Chief Executive Marc Bolland told the group of young people they all had jobs causing some to burst into tears.
Martina Milburn, Chief Executive of The Prince's Trust who was part of the visit, said: "A frightening number of unemployed young people don't have a support network in place, and they can often end up feeling hopeless and alone. But, with the right support we can help get these lives on track. We are incredibly grateful to Marks & Spencer for helping us to reach the most vulnerable young people offering them hope for the future."
Source: Prince's Trust